ST. LUCIE COUNTY, Fla. — For the first time in nearly two years, the Army Corps of Engineers has started releasing water from Lake Okeechobee into the St. Lucie Estuary.
From a perspective not everyone gets to see, Jacqui Thurlow-Lippisch closely tracks every visible change in the St. Lucie River.
"It's 180 degrees from where it was," she said.
Pictures as recent as this weekend over the St. Lucie Inlet show blue, clear conditions and some seagrass still trying to make a comeback.
A stark contrast from previous years when, she said, heavy releases from Lake Okeechobee, in part, damaged this ecosystem.
"The water was so disgusting and gross," she said. "Black, brown, full of sediment, green algae, dead fish."
This rebound, Thurlow-Lippisch credits to having no releases from Lake Okeechobee since April 2021.
"Major, major positive impact. There is no better impact to our St. Lucie River to have no discharges from Lake Okeechobee," she said. "It took some time, but our seagrass rebounded in the sailfish flats. You can see the shadows and the water and the color in that area."
However, this weekend, releases resumed for the first time in almost two years.
RELATED: Stuart announcing support for end to harmful discharges from Lake Okeechobee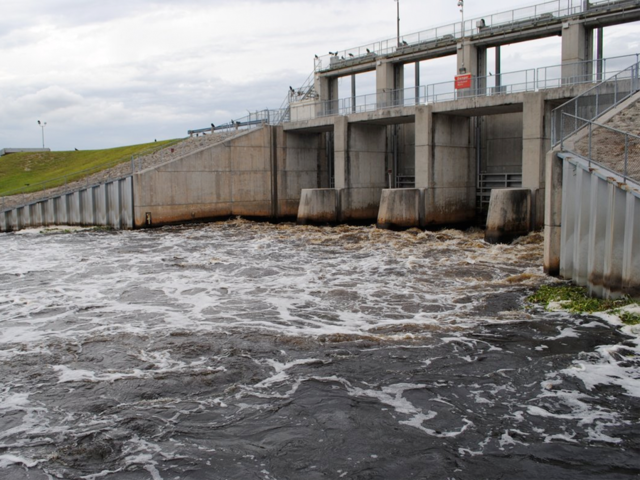 "I was not surprised," Thurlow-Lippisch said.
Thurlow-Lippisch, who also sits on the South Florida Water Management Board echoes what the Army Corps of Engineers said in justifying the releases.
Water just wasn't receding off the lake fast enough following Hurricane Ian, the lake level still resting around 16 feet higher than the Corps would like before the start of the wet season.
"I can't stand it. I wish it wasn't going to happen, but that's high," she said.
Thurlow-Lippisch said releasing water now is better for the algae bloom risk.-
"And you don't want this water coming in in the summer with toxic algae blooms, we don't," she said. "So, it's better to take it now."
It also helps that the estuary had a long break from the freshwater influx.
"She's stronger and she's had some time to come back," Thurlow-Lippisch said. "I hate releases."
Congressman Brian Mast at the St Lucie Lock Monday said he doesn't accept any releases into the estuary as every drop, he said, is harmful.
"They create the situation where moving into this summer, if the estuary is fresh instead of salty, we get toxic fresh water algal blooms," he said.
In a letter to the Army Corps, Mast gave "tepid appreciation that the core lower the lake before the wet season" but wrote "the low-level releases planned have little effect on the lake level- but massive impacts on the east coast ecosystem."
"If you stop abusing the estuary, nature is meant to heal," Thurlow-Lippisch said. "We are meant to heal."
Now, the wait begins to see how long the releases will last.