ORLANDO, Fla. — As Disney's Hollywood Studios in Orlando proudly showed off its latest themed area inside the park, all eyes were on Hurricane Dorian and its potential impacts on the Sunshine State.
The debut of 'Star Wars: Galaxy's Edge' on Aug. 29 came at the same time WPTV meteorologists were tracking Hurricane Dorian as it inched closer to us.
Now that the storm (and stress) have passed, it's time to go back and look at what you missed at 'Star Wars: Galaxy's Edge'.
This article has three parts:
A. 8 must-do's at 'Star Wars: Galaxy's Edge'
B. Inside look: Talking with Disney Imagineers about putting together 'Star Wars: Galaxy's Edge'
C. Disney photo gallery of 'Star Wars: Galaxy's Edge'

8 Must-do's at 'Star Wars: Galaxy's Edge'
1. Fly the "Fastest Hunk of Junk in the Galaxy"
The only full-size Millennium Falcon in the world spans more than 100 feet. Riders can play three roles: pilot, engineer, or gunner. The goal is to deliver smuggled goods while avoiding unnecessary entanglements.
🔽 VIDEO: INSIDE 'SMUGGLER'S RUN' 🔽
2. Make your phone into a Star Wars Datapad
Download the Play Disney Parks Mobile App and you can transform your phone into your very own Star Wars: Datapad.
You can play a game called 'Outpost Control' that takes place across the land. You can choose to be aligned with the Resistance or the First Order.
The faction that controls the majority of panels next to doorways throughout the land wins the game. The conflict happens multiple times during the day.
Additionally, the pad will let you hack (called slicing) into droids and door panels to unlock additional stories. Plus, you can scan containers to find surprises, translate languages, and tune in to communications happening throughout the land.
🔽 VIDEO: MAKING THE DROIDS DANCE 🔽
3. Get blue milk
If you've ever watched 'A New Hope,' you probably saw Luke Skywalker's blue milk. Now you can discover what it tastes like.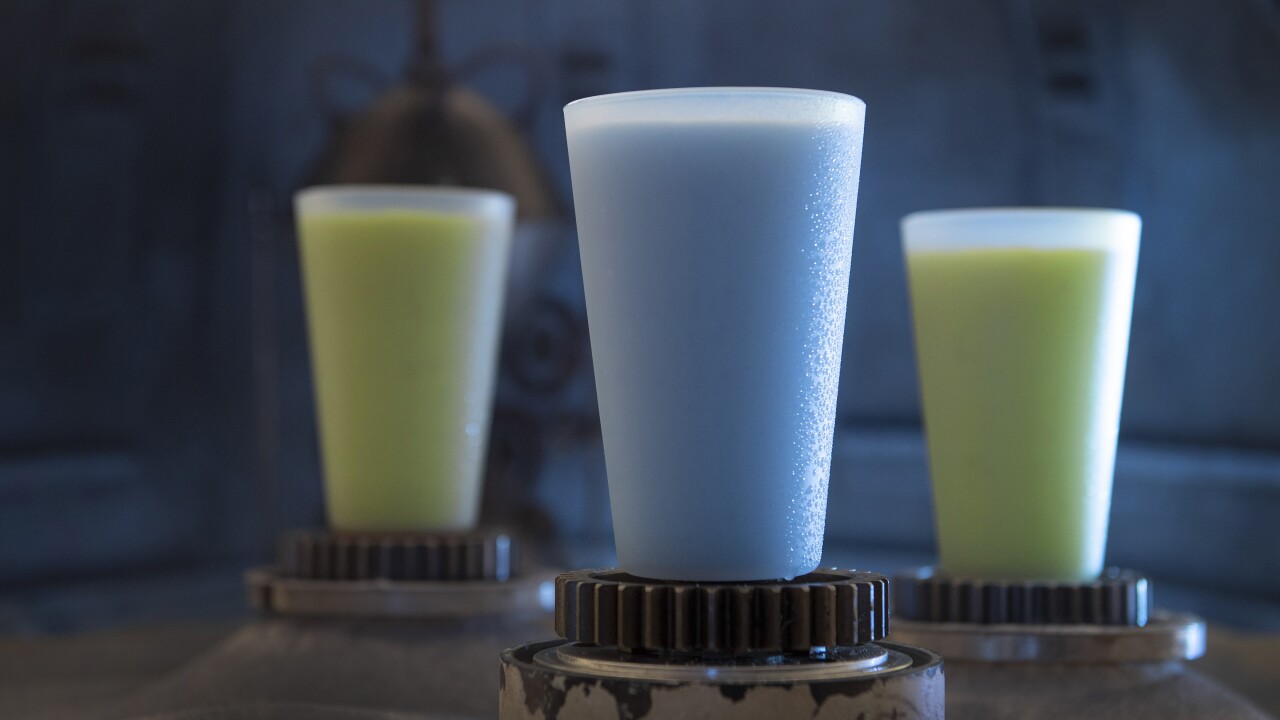 4. Create a lightsaber
Instead of using gift wrapping rolls pretending it's a lightsaber, take your Jedi game to a new level and build your own. Savi's Workshop has all the hilts, decor, and kyber crystals you'll need.
5. Build your own Droid
The Droid Depot allows you to construct your own loyal friend. You can pick pieces and parts off a conveyor belt to construct droids which can then interact with attractions throughout 'Star Wars: Galaxy Edge.'
🔽 VIDEO: INSIDE THE DROID DEPOT 🔽
6. Have a drink at Oga's Cantina
Cantinas are infamous places in the Star Wars universe filled with lively music and smugglers. Now you can experience all the action for yourself at Oga's Cantina.
7. Visit the Dok-Ondar's Den of Antiquities
Find toys and clothing unique to 'Galaxy's Edge' from this larger-than-life collector of all things odd and hard to find. Dok-Ondar is the gatekeeper of the black market
🔽 VIDEO: INSIDE THE MERCHANDISE 🔽
8. Star Wars characters
Be on the lookout for chances to encounter Kylo Ren, Rey, Chewbacca, or Vi Moradi.
Inside look: Putting together 'Star Wars: Galaxy's Edge'
VIDEO: Tim Warzecha, Imagineer
Disney Imagineers did extensive research, even going back into George Lucas' archives to bring 'Star Wars: Galaxy's Edge' to life.
VIDEO: Scott Mallwitz, Executive Creative Director
Full immersion is what Imagineers want you to experience at 'Star Wars Galaxy's Edge,' the newest land inside Disney's Hollywood Studios in Orlando.
VIDEO: Sophia Acevedo, Walt Disney World Imagineering
How Disney got the Millennium Falcon to look authentic.
Disney Photo Gallery of 'Star Wars: Galaxy's Edge'