LAKE WORTH BEACH, Fla. — A section of Lake Worth Beach's "Unity Wall" mural has already gotten a bit of a makeover.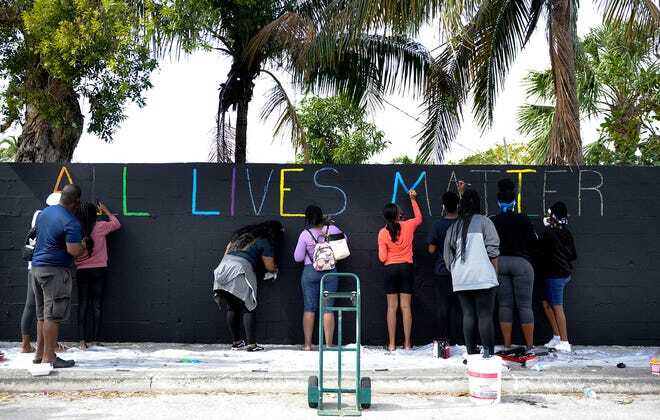 Less than a week after revitalization began, organizers replaced the phrase "All Lives Matters" with the word "Unity."
READ MORE: Artists revitalize historic "Unity Wall" in Lake Worth Beach
Volunteers did leave the depictions of social justice pioneers on the wall including Frederick Douglass, John Lewis, Barack Obama, and Martin Luther King Jr.
Interim City Commissioner Carla Blockson told the Palm Beach Post a "large majority" of the community didn't want the project to be associated directly with Black Lives Matter because the group "would be divisive, take away from unity and offend the stakeholders in the city. ... We don't want anything that will ultimately be controversial."
Carmelle Marcelin-Chapman, a spokesperson for the "Unity Wall" project, told WPTV NewsChannel 5 that the phrase "All Lives Matter" was pre-approved by the wall committee. On Saturday, an artist and student volunteers began painting the wall black and writing out the controversial phrase.
Instantly there was backlash from the community. On Wednesday, Marcelin-Chapman said the wall committee held an emotional but calm "emergency meeting" at the Osborne Community Center. That's where members approved a change to the writing on the wall to say "Unity".
"To me all lives matter, I'm not lookin' at just Black. All lives matter to me," Former Lake Worth Beach Vice Mayor Retha Lowe told WPTV on Saturday before the controversy, "Any issues that come up, let's sit down at the table. You can satisfy, you can clear up and you can do more by sitting down and talking about it."
Bishop Melvin Pinkney of New Life Zion Temple, who led two Black Lives Matter protests last year outside City Hall, was one of the speakers according to the Palm Beach Post and said, "Until Black lives matter, how are you going to put 'All Lives Matter' up there?"
Blockson is also the chairwoman of the Unity Wall's art committee. She said, "We understand that everyone makes mistakes and missteps, but to admit your mistakes and move forward together, that's what we've done."
Volunteers and artists plan to continue work on the wall on Saturday morning.
Jorge Milian of the Palm Beach Post contributed portions to this article.