Team USA took home the bronze Monday for the second straight Olympics in figure skating's team event.
Canada took the gold while Olympic Athletes from Russia won silver.
RELATED: More Olympic coverage
Russia had won the event at the Sochi games four years ago.
American Mirai Nagasu landed a historic triple axel during the ladies free skate, helping Team USA to the bronze.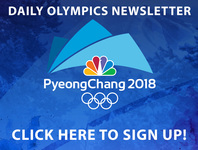 Below are Team USA's bronze medalists, and the portion of hey contributed:
Nathan Chen (men's short program)
Adam Rippon (men's free skate)
Bradie Tennell (ladies' short program)
Mirai Nagasu (ladies' free skate)
Alexa Scimeca Knierim and Chris Knierim (pairs' short program, pairs' free skate)
Maia Shibutani and Alex Shibutani (short dance, free dance)