GANGNEUNG, South Korea (AP) - Mirai Nagasu wasted no time making some figure skating history.
The 24-year-old from Montebello, California, became the first American woman - and third woman overall - to land a triple axel in the Olympics.
RELATED: More Olympics coverage
Nagasu accomplished the rare feat just 21 seconds into the women's free skate on Monday. She was the first of the five women to compete and led off her routine with the triple axel, drawing huge cheers from the crowd at the Gangneung Ice Arena.
"HOLY COW!" You just witnessed a historic triple axel from Mirai Nagasu. #WinterOlympicshttps://t.co/NsNuy9F46hpic.twitter.com/jCMTb4LtXv

— NBC Olympics (@NBCOlympics) February 12, 2018
"I feel really great," Nagasu said. "Going into it, I was like a train and I was like, 'Get on the tracks and get some speed.' And, I tripped a couple times. I don't know if you could tell. It was more something I could feel, but to nail it the way I did, even out of the corner of my eye, I could see my teammates standing out of excitement.
"And at that moment, I wanted to stop the music and get off, but I still had my whole program ahead of me."
And, she took care of business. Nagasu skated a flawless routine and pumped both fists as she completed it, smiling as the crowd gave her a standing ovation. Her American teammates rose out of their seats to applaud Nagasu -- as did skaters and team members from other nations.
Nagasu had landed triple axels in previous competitions, but never in such a pressure-packed situation as the Olympic stage.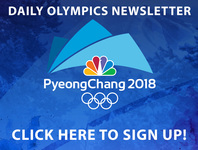 "To complete the performance to the best of my ability is really exciting," she said.
She received a personal-best score of 137.53 points, narrowly edging Canada's Gabrielle Daleman (137.14) for second place in the free skate. Russian Alina Zagitova won the event, topping even her performance in taking the European title last month with a season-best 158.08 points.
Japan's Midori Ito and Mao Asada also landed triple axels during the Olympics. Nagasu, who is also Japanese, joked about the history the three now share.
"Maybe it's the Japanese genetics," Nagasu said with a big smile. "But lucky for me, I'm American, so I'm the first American to land it."
Nagasu also drew lots of compliments from fellow American skaters, incuding Kristi Yamaguchi, Scott Hamilton and Meryl Davis.