PALM BEACH COUNTY, Fla. — Hidden Oaks K-8 School, just west of Boynton Beach, was put on lockdown Friday morning because of a report of a student with a gun on campus, which ended up being unfounded, authorities said.
Teri Barbera, a spokeswoman for the Palm Beach County Sheriff's Office, said the investigation revealed the item was actually a "paper gun."
In a series of messages to parents and guardians starting at 8:12 a.m., the School District of Palm Beach County said the campus, located at 7685 South Military Trail, was on lockdown with limited movement "out of an abundance of caution due to police activity off campus, in the neighborhood."
"All students are safe," the message said. "Please do not come to the school at this time."
A second callout at 8:56 a.m. reaffirmed that "all students are safe."
"We currently are operating with limited movement on campus and will proceed with a regularly scheduled day," the callout said.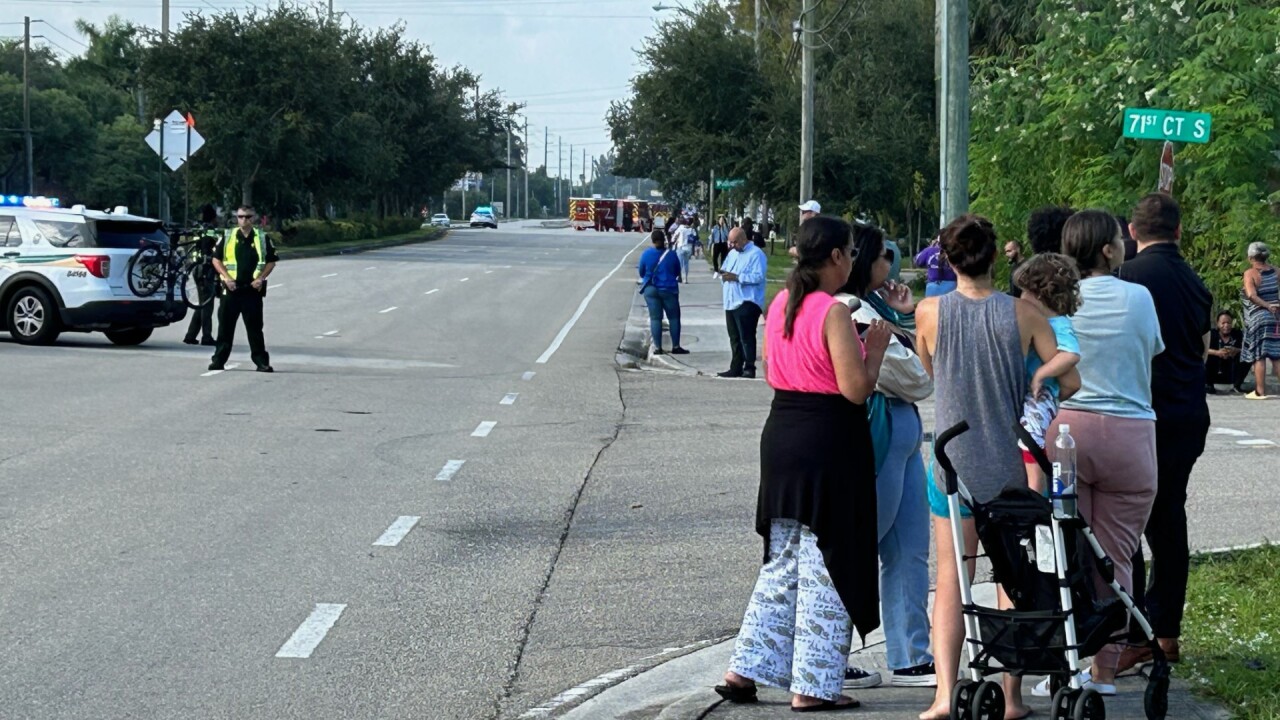 In a third callout at 9:46 a.m., principal Shari Bremekamp said the school was placed on a "brief precautionary lockdown" as law enforcement — including the Palm Beach County Sheriff's Office and school district police — investigated a report of a "possible weapon on campus."
Bremekamp said that, following a thorough search, no weapon was found. However, one student had "folded up construction paper in the shape of a gun."
"School Police, along with Palm Beach County Sheriff's Office, determined that there was no risk to the campus and have given us an 'all clear,'" Bremekamp said. "Parents, I want to absolutely stress to you that all of your children were safe inside this building. All children were safe."
Bremekamp asked parents and guardians to remind their students that some items at home are "not appropriate to bring to school."
"I would also recommend an occasional check of your child's backpack before they leave in the morning," Bremekamp said.
The principal added that Hidden Oaks K-8 School is continuing with a regularly scheduled day, however, parents can pick up their children early if they wish.
"We have personnel ready to expedite that process for you," Bremekamp said in her callout. "Please make sure that you bring a valid ID. Your IDs will be checked and we will be doing that outside the building, not inside."
It was a tense morning for mom Lesley Fernandez, whose daughter is in kindergarten at the school.
"We saw the police presence blocked off and multiple ambulances and fire trucks and just a little bit of madness," she said. "It's the most horrible feeling to know your kid is stuck somewhere and you can't reach them. This is something they shouldn't have to worry about being so young. They shouldn't."
Fernandez planned to take her daughter home early.
"They are probably horrified. I don't know how they can go on through the day after this," she said.
When it comes to school safety, Fernandez said you can never have too much protection in place.
"The metal detectors they said they were rolling out as a plan, they need to do it in all schools," she said. "This is crazy."
According to the School District of Palm Beach County's website, Hidden Oaks K-8 School has an enrollment of 806 students.