Palm Beach Surf Forecast, Updated local surf forecast for SE Florida
Updated: December 7, 2017 - Surf forecast for the Palm Beaches and Treasure Coast.
REWIND: Some groundswell showing up, especially upcoast Thursday. Chest high plus, a little closed out and high tide swamping it at some spots. Wind will swing around onshore in the afternoon too and put some crosschop on it.
SURFCAST DISCUSSION
Quick shot of longer period groundswell from a low that strengthened south of Nova Scotia. A lot of closeouts and fighting the high tide through the day. Looks like it made it as far south as Juno. That swell fades quickly on Friday, upcoast will still have some fun, clean waves in the morning until the tide fills in.
Then low pressure develops in the gulf along a cold front and swings across north Florida, up to offshore hatteras and strengthens. Then it moves up to Nova Scotia. A strong cold front will get shoved south from it, Cranking up the NW winds and some Refraction Action for south Florida! This looks to be SUNDAY now. (maybe as early as late afternoon Saturday)
Swell drops Monday as winds die down. Weather turns pretty chilly for south Florida so dust off the rubber.
A upper short wave induces strong low pressure to form quickly off the Delmarva and move up to nova scotia. This will again crank another strong cold front south, with another blow of NW winds and refraction potential. This set up looks a little better than the first right now, so it may be a bit bigger Wednesday than Sunday. Thank goodness I'll be home to catch this one! (Taking some time off so catch some for me! )
SURFCAST SPECIFICS:
FRIDAY: Groundswell drops, small knee/thigh high lower tide inconsistent swell northern PBC, waist to chest treasure coast. clean in the morning with an offshore wind. should stay offshore all day but may turn around SSE for a few hrs in the afternoon. Wind SW/S 10-15kts.
SATURDAY: Wind starts cranking, SW at first then turning west then northwest behind the front. Flat in the morning then it may build by the end of the day depending on the exact time the wind picks up. Cloudy/rainy most of the day. SW-->NW 20-25kts.
SUNDAY: Refraction-Action ALERT! Swell fills in in the chest/shoulder high range. Chilly out all day but sunny. Wind NW 20kts.
MONDAY: Small leftover swell knee/thigh in them morning then dropping. Some slightly bigger groundswell upcoast. Chilly morning. Clean all day. Wind NW 5-15kts.
TUESDAY: Flat. West then NW wind picks up again to set up another refraction swell Wednesday.
WEDNESDAY: Refraction-action ALERT! Strong NW winds again, looking good for another refraction swell! Right now Looking a little better set up than the last one.
LONG RANGE SURFCAST
Winter season kicking in with some good swell chances the next couple weeks and finally some favorable winds. Wind does come back onshore with windchop chances for Christmas weekend. The cold fronts keep pumping in keeping at least some rideable surf every few days or so through Christmas.
Looking way ahead into the meat of winter, It looks like a la Nina is here which wouldn't be that great for the winter surf season, but if the NAO goes negative, there will be some hope. A negative NAO will set up some blocking in Greenland and allow some cold fronts to buckle south. (it's been generally positive the past few winters) NAO impossible to forecast more than a couple weeks ahead of time.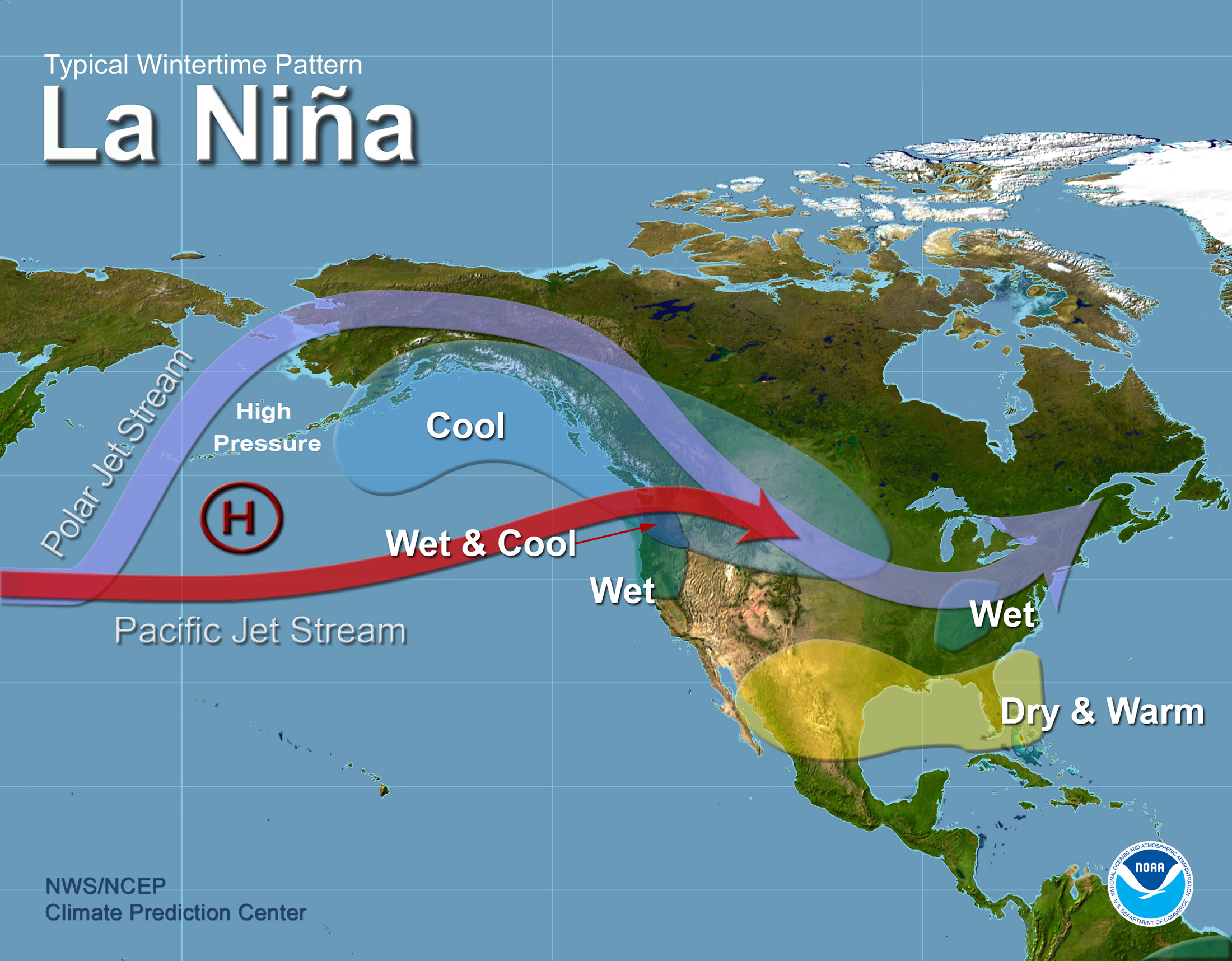 Follow my social media accounts:
Check my Instagram account for current updates...
SNAPCHAT: surfnweatherman