Palm Beach Surf Forecast, Updated local surf forecast for SE Florida
Updated: February 22, 2018 - Surf forecast for the Palm Beaches and Treasure Coast.
REWIND: Windchop picked up most of the week. It's been best in the morning hours around high tide and then it dies out some by sunset.
SURFCAST DISCUSSION
High pressure finally starts to get beat down and our onshore winds come down. A couple more days of choppy surf before going flat. Then about a week flat spell...the proverbial "calm before the storm" of swell we're going to be getting in March when the pattern completely flips.
SURFCAST SPECIFICS:.
THURSDAY-FRIDAY: Waist to maybe chest high windchop continues. Maybe a little swell behind it. . Wind East 15-20kts.
SATURDAY: Windchop starts to fade, waist plus in the morning dropping some in the afternoon. WInd ESE turning more SE 15-20kts.
SUNDAY: Knee/thigh high still rideable in the morning then fading through the day. Wind SSE 15kts.
LONG RANGE SURFCAST
"Pattern change" ..... I've been talking about this pattern flip for over week now, and now it's coming to fruition.....sometime around the beginning of March. Basically instead of having a big high sprawled off the east coast, it's going to completely flip and it will be low pressure taking over. Farther north east over Greenland, blocking will set up and force everything to take a more southerly track. The NAO and AO forecast confirming by tanking negative. The jet stream, which is basically the highway for low pressure systems to follow, will buckle south and allow low and low to move off the coast from georgia to the Carolinas and out to sea. With a track that far south and moving straight offshore, we will see some good punches of groundswell for just about the whole month of March. The jet will reload low after low in quick succession so even if the wind is raging onshore one day, it'll quickly change the next as the next low approaches. We are in for a wild ride! Winter is not over yet!
Teleconnections....That's what we call things like the NAO and AO. (North Atlantic Oscillation and arctic oscillation) Without getting too in depth, (and to spare you a geeky science read)...I'll put it in it's most basic terms..... if the NAO and the AO are negative, the jet stream buckles south, we get more cold fronts, and big low pressure systems move offshore(creating swell) instead of riding up the coast.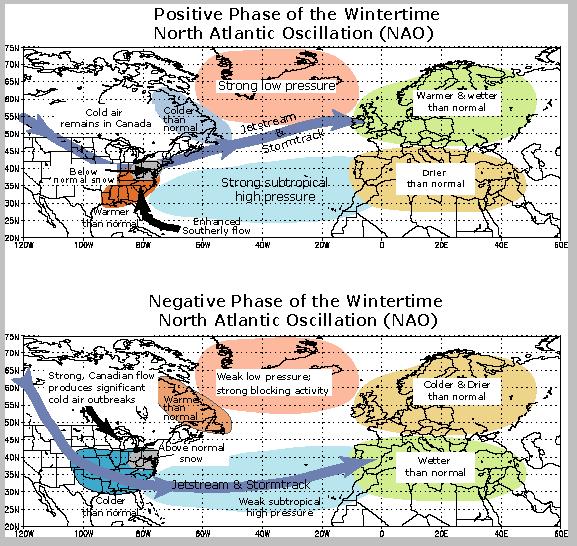 So yes, we want it to be negative. Remember that really cold winter we had in 2010? A strong negative NAO and AO stuck around most of the winter causing all the cold air to spill down into Florida. (and the swells were nonstop)
Here's a look at the AO and NAO forecasts, notice around the start of March is when they tank:
Early indications are it may stick around for the whole month before flipping back for April, or maybe longer. We may be in for a heck of a ride in March!
Follow my social media accounts:
Check my Instagram account for current updates...
SNAPCHAT: surfnweatherman
img src="https://www.weather.gov/images/iwx/webpages/climate/la_nina/NAOImpacts.jpg" width="480" />