PYEONGCHANG, South Korea (AP) — Japanese short-track speedskater Kei Saito has tested positive for a banned diuretic in the first doping case of the Pyeongchang Olympics.
RELATED: More Olympic coverage
Saito, a reserve on the 5,000-meter relay team, tested positive for Acetalozamide, which can be used to treat conditions such as glaucoma and altitude sickness but can also be a masking agent to disguise the use of other banned substances.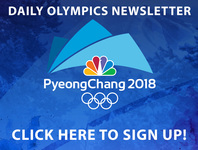 The Court of Arbitration for Sport announced the case Tuesday, saying Saito "accepted on a voluntary basis to be provisionally suspended and to leave the Olympic Village."
Saito did not race in any event before the test result from a pre-competition sample was confirmed. CAS said its judging panel handling Olympic doping cases will issue a final verdict after the games are over.
The Japanese Olympic Committee said Saito was tested after training on Feb. 4, just before he went to bed in the athletes village.
In a statement, Saito denied intentionally doping and said he was "extremely shocked" by the results.
"I have never considered doping. I have never used anabolic steroids so I have never needed to try to hide it," he said in the statement.
He said he accepted the provisional suspension because "I do not want to be a disturbance to my teammates competing at the Olympic Games ... and will leave the team and the athletes village voluntarily."
Yasuo Saito, Vice President of the Japan Olympic Committee, said the JOC would work to help the 21-year-old skater clear his name after the Olympics.
"At this point, all we know is that the sample A and sample B tested positive. It is impossible for us to submit any evidence that prove them otherwise during the limited time," Japan's delegation leader said. "That is why we had to go with the provisional measure. The violation of the anti-doping rules has not been proven, so it is not decided yet. So please understand that point.
"Saito has no idea why this has happened, so we as Japanese Olympic team continue to make every effort to prove that there was no anti-rule violation by Kei Saito."