GANGNEUNG, South Korea (AP) — The Korean women's hockey team is going through some growing pains.
Sweden scored four goals in the first period and routed Korea 8-0 on Monday night in a preliminary round game that did nothing to dampen the enthusiasm for the historic team.
The North Korean cheerleaders were back as part of a loud arena chanting, cheering and singing in support of the first team to feature both South Korean and North Korean players in an Olympics. They led the wave in the first intermission and roared as the Koreans tried to score on the power play in the second period.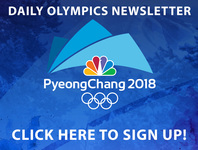 The Koreans more than doubled their shot attempts from their opening 8-0 loss to Switzerland with 19, and they matched all eight they took in that loss in the second period alone.
"It's a learning experience for us," Korea coach Sarah Murray said. "We've never been in the Olympics before, never played the high-level teams like this before. Everything I learning for us, so every time we lose, it's just a chance for us to improve. A loss is a chance for a comeback, so we're just going game by game and we're looking forward to playing against Japan."

Pernilla Winberg had two goals and six of teammates scored as Sweden outshot the Koreans 50-19.
Murray noted her players kept shooting, not easing up despite the score. They managed five shots in the third period.
"You have to use an excuse as the rankings, but Sweden's ranked fifth and we're ranked ... 22nd," Murray said. "If you just look at the rankings, it's a tough game for us all. These games were going to be tough.
We knew that. But the players didn't give up. They're not scared even though they're losing by so much."