PALM BEACH COUNTY, Fla. — It's a condition that can impact your baby's ability to breastfeed, eat solid food, even sleep and speak, and you may not know about it.
It's called a lip and/or tongue tie, and doctors say a procedure to correct it is becoming more common.
Mealtime is a happy time in the Ledford house with 15-month-old Cam. But it wasn't always this way.
Cam's mom, Angela, said her son was diagnosed with a tongue tie when he was an infant.
That means his tongue was tethered too tightly to the floor of his mouth, restricting its movement.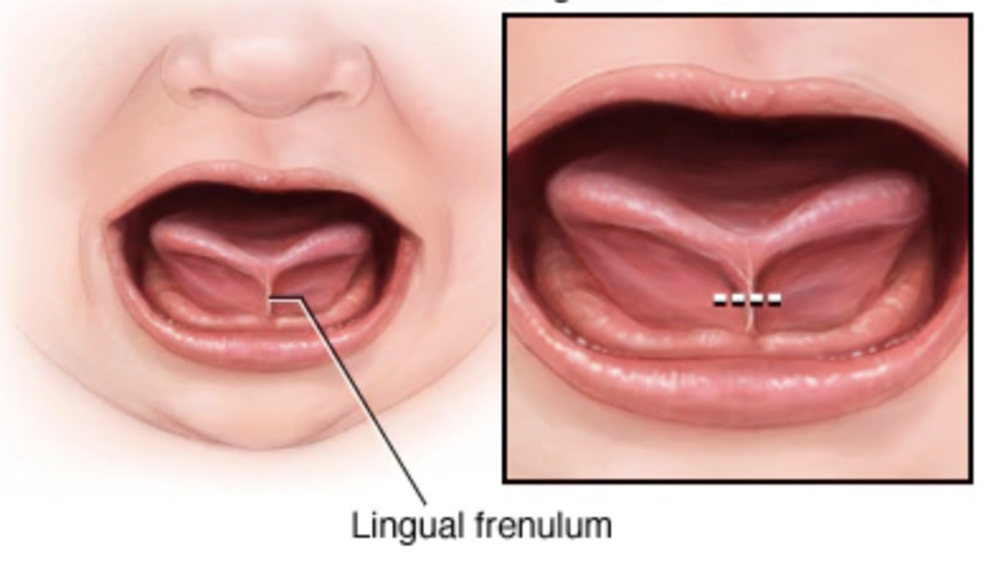 Photo Source: Mayo Clinic
As with most tongue tied babies, a lactation consultant told Ledford the condition would make breastfeeding more difficult. But breastfeeding wasn't Ledford's only concern.
As Cam got older and she tried to feed him solid food, Ledford said he really struggled.
"He would try, but he would gag and choke and then just take it out of his mouth and throw it," said Ledford. "And I felt this happened for so long, past the stage where a baby would naturally do that."
Ledford and her husband, Nathan, were told by two medical professionals that having Cam's tongue tie released was not medically necessary. But Ledford was still concerned as her son got older and struggled with solid food.
"He could survive with a tongue tie, but could he thrive?" asked Ledford. "Could he eat the foods I felt he needed to eat?"
It was an emotional ride for the whole family.
"The emotions I felt as a mother watching him struggle were very hard for me. Especially because in all other aspects of his health and development, he was right on track with milestones," said Ledford. "I would drop him off at the babysitter and tell them, here's his purées, because I knew he wouldn't be able to handle a solid food. And all the other kids who were maybe three weeks older than him were eating strawberries no problem, and I'm like, yeah, my baby won't be able to do that."
So Ledford sought out pediatric dentist Dr. Saadia Mohammed at Palm Beach Pediatric Dentistry in Boca Raton.
Dr. Saadia, as she is known to her patients, has been performing a laser lip and tongue tie release procedure for the past 14 years.
Dr. Saadia said she's seen a spike in the number of procedures over the past five years. Right now, she performs about 5 to 10 per week. She said about 5 to 7 percent of babies are born with a tongue tie.
The doctor added that while this is not a new problem, the procedure is becoming more common with a greater cultural focus on breastfeeding.
"As the pendulum has swung back to breastfeeding and moms are encountering the problems with the baby's latch, it's surfacing again," said Dr. Saadia. "They're sort of remembering that hey, this is there and it needs to be looked for."
🔽 WHAT TO LOOK FOR 🔽
"Moms are usually not able to nurse, the latch isn't happening right, the milk isn't flowing right, the baby has colic, and just not a happy little camper," said Dr. Saadia of tongue tied babies. "They can't latch on. They compensate by gripping onto the mom."
As for lip tied babies, there are certain things parents can look out for.
"When you look in the mouth and you lift up that lip, you will see that tethered tissue holding that lip down," said Dr. Saadia. "And when the baby goes to latch on, they can't really latch on. The lip doesn't flare really well."
It can be a very painful experience both physically and emotionally for new moms, Dr. Saadia added.
"Some moms are very distraught, they are in pain, and they'll just quit breastfeeding," the doctor said. "It's really, really sad when a mother who wants to breastfeed is unable to breastfeed just because of a little tie."
The lip and tongue tie release procedure takes just minutes as Dr. Saadia uses a laser to release the tie and improve the tongue or lip's movement. It requires no anesthesia, there is usually no bleeding, and there are no sutures. The recovery and healing take about one to two days.
Dr. Saadia said moms are encouraged to nurse their babies immediately afterward.
"I have moms that get the baby to latch on right after we do the surgery and tears start flowing. Tears of joy start flowing down mom's eyes because she says it doesn't hurt anymore! It's just amazing," said Dr. Saadia. "You are changing your child's life. I could fix teeth all day and yes, it will make them smile and make them happy. But a lip and tongue tie transforms lives, and the ripple effect is huge."
If the condition goes untreated, Dr. Saadia said a lip and/or tongue tie can lead to sleep apnea, tooth decay, attention and focus issues, digestion issues, speech problems, and as Cam experienced, feeding issues.
🔽 EFFECTS OF LIP/TONGUE TIE 🔽
Cam had his laser procedure done at 13 months old. Two months later, he's an eating machine and his mom just wants others to know this option is out there.
"To me, this is proof that we did the right thing because he's now at the level I think he should be," said Ledford. "This decision I made for him had nothing to do with breastfeeding. It had to do with the future quality of life. Breastfeeding is absolutely important, and if that's what motivates you to get that mouth checked out, great. Beyond breastfeeding for us, this was a long term decision."
Ledford said she felt empowered after reading the stories of other mothers in a Tongue Tie Babies Support Group on Facebook that has more than 76,000 members.
"As soon as he had his laser tongue tie removal surgery, within 24 hours he said doggie, and Dr. Mohammed said, think about the shape your tongue has to make to say doggie," said Ledford. "He probably couldn't make that shape before. It pretty much unleashed his ability to speak."
Ledford said she listened to her motherly instinct, and it paid off.
"I felt like I was right," said Ledford. "As a mother, I was right. I'm so glad I listened to my instinct and listened to my gut because I think it was right all along, I just had to be an advocate for my child."
Dr. Saadia said the best time to take care of a tongue tie is when a baby is about a week old.
There are also mouth exercises and stretches that must be performed afterward to keep the tissue from reattaching. Dr. Saadia said if you are concerned your child may be lip or tongue tied, make sure you see an expert who knows what to look for.
Dr. Saadia added that every situation is different. Some of her patients don't even know they have a tongue tie.
"If they are living a healthy life, and nothing is bothering them, it's my job to empower them with information and say, hey, this anatomy exists," Dr. Saadia said.
WPTV reached out to the American Academy of Pediatrics which said the organization does not have an official recommendation or policy on the lip and tongue tie procedure at this time, but does expect to address it in a future report after reviewing research.