DELRAY BEACH, Fla. — Lyndsay Colosimo from Delray Beach went to Colombia in May to get plastic surgery at a fraction of the price that she would've had to pay in the U.S.
"I didn't feel good about myself," Colosimo said. "My dream outcome was to come home feeling better about myself physically. And I thought I would be coming home and be able to put on a bathing suit and go run around and look cute."
But Colosimo's dreams were shattered when she developed complications from the surgery shortly afterward.
🔽 WATCH LYNDSAY'S STORY 🔽
"This is my real life nightmare right now," Colosimo said as she stood on picturesque Delray Beach, a wound vacuum attached to her.
Colosimo has to wear the medical device for up to six months, depending on how the healing process goes. But even time can't heal some wounds.
"I have lost my nipple and I have an open gash, and then another wound from where the implant is pulling my skin apart," Colosimo said.
SPECIAL COVERAGE: Contact 5 Investigations
Dr. Carlos Ramos in Medellin, Colombia performed the surgeries.
"[Ramos] is called the surgeon of barbies," Colosimo said. "I was calling him a butcher by the end."
Colosimo had done some research on Ramos beforehand. Not speaking Spanish, the things she saw online were all positive.
"I looked at a lot of his Instagram, saw a lot of his photos," said Colosimo. "I talked to a lot of girls who had already gone and seen him."
On his Instagram page, where Ramos has around 413,000 followers, Colosimo saw sleek-looking promotional videos and pictures of him in expensive sports cars.
When Colosimo talked to Ramos about her dream outcome, she was not suspicious.
"Originally, he told me I couldn't do all three procedures before I went to see him," Colosimo said. "Also, his partner, I also asked for a consult. He told me all three were not possible. That I would have to wait a minimum of three months to have my breasts done after tummy tuck, and a butt lift."
But once Colosimo arrived in Colombia, things changed.
"[Ramos] told me he could do all three at once," Colosimo said.
When she woke up from the procedures, she was in a lot of pain.
"Everything looked OK, except for, through the tape I could see a black spot on my nipple. And I kept asking what it was," Colosimo said.
After surgery, Colosimo stayed in a hotel. Nurses came to check on her. She hadn't seen Ramos so she decided to send him pictures through the messaging app, WhatsApp.
The following is a text message exchange between Colosimo and Ramos:
"His words were, 'it's like a snake. You'll shed your skin and you'll be fine,'" Colosimo said. "I knew in my heart that there's nothing fine about having a black body part."
It took around 10 days for Colosimo's trust to completely vanish as her health deteriorated.
"I took a turn for the worst," Colosimo said. "I started leaking out of my breasts and my stomach started to swell. I turned ghostly white. And that's when I kept contacting him, asking him, is this OK? He's like, 'yeah, you're fine.'"
Colosimo sent pictures to her sister back home, who is a nurse.
"And she showed them to her doctor and her doctor immediately said it was necrosis," Colosimo said.
Necrosis is the death of body tissue. It occurs when too little blood flows to the tissue. Necrosis cannot be reversed. It meant Colosimo would lose her nipple.
"I was mortified," Colosimo said. "I was ashamed and embarrassed but also very angry that the doctor didn't tell me what was going on and kept telling me it was normal and that everything would fix itself in six months."
The following is a text message exchange between Colosimo and Ramos: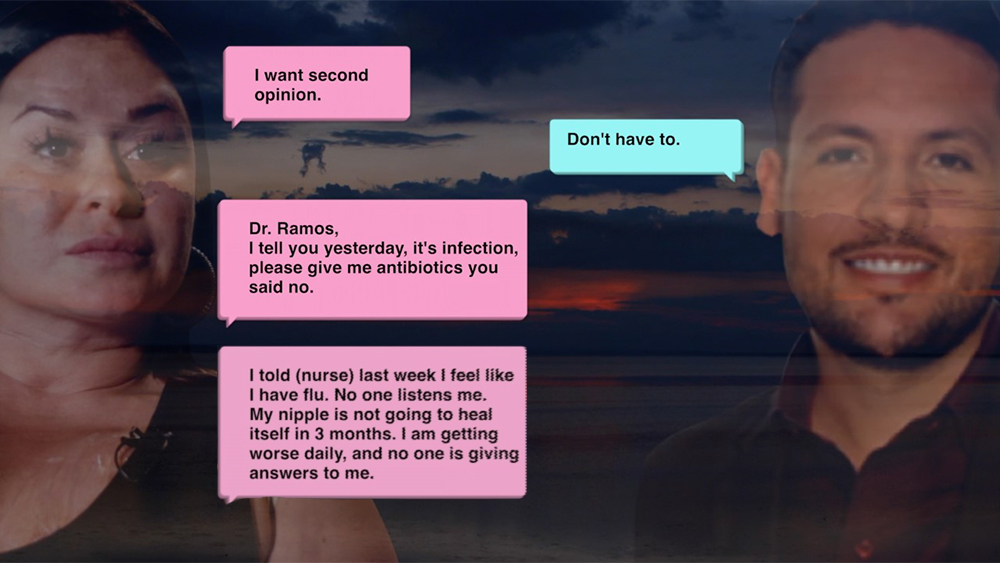 Ramos responded to Colosimo's text message with a voice message.
"You're not in danger, you just have little infection," Ramos said in that voice message. "Don't be afraid because the things that are happening to you right now are not dangerous."
Contact 5 Investigator Wanda Moore showed the pictures to a Palm Beach County plastic surgeon.
"It's not normal, it's a complication," said Dr. Fredric Barr. "But that's not the norm. I think there's definitely a blood supply issue."
Barr said the biggest issue is how surgeons deal with complications.
"The danger is sitting on someone and not attending to what is progressing," Barr said. "Because once an infection is in the bloodstream, sepsis, you could be dead in a very short period of time."
The Centers for Disease Control and Prevention estimates that every year, 750,000 Americans travel abroad for medical care, including plastic surgery.
Colombia is among the top 10 destinations for plastic surgery, according to the CDC. Other popular medical tourism destinations for Americans include Argentina, Brazil, Costa Rica, Cuba, India, Malaysia, Mexico, Singapore, and Thailand.
Patients with complications often seek help back home in the U.S.
RELATED: CDC issues warning about medical tourism
"I'm on the voluntary staff at the University of Miami," Barr said. "They have seen quite a bunch, quite a number of people coming in. The sad part is the ones that don't make it. For whatever reason, they passed away overseas."
Colosimo said that 25 days after her surgery, Ramos called a specialist in necrosis.
"She was a nurse from another operation and she debried the nipple and that left me with literally open milk ducts exposed," Colosimo said. "I was scared to death to be honest. I was scared for my life."
Colosimo had spoken to specialists in the U.S., and all of them had recommended she should come back home because she needed proper medical attention at this point.
Once Colosimo was back in Florida, doctors diagnosed her with an E. coli infection in her breasts. All the built-up fluid meant Colosimo could barely walk.
"I'm extremely embarrassed and ashamed of the decisions I made," Colosimo said through tears. "I feel like a monster to be honest. When I take all this off, I see open wounds and gashes and holes in my body that I will never be able to fix. It hurts, it's painful. It's painful emotionally, it's painful physically."
Colosimo has spoken to a lawyer in Colombia to possibly pursue legal action against Ramos.
"In Colombia, there's no law that requires doctors to have a degree of specialty in plastic surgery," said Mauricio Urquijo, Colosimo's attorney.
Urquijo said the number of unlicensed plastic surgeons in Colombia is on the rise.
"These fake surgeons are very powerful on social media," Urquijo said. "They tried to silence the victims of bad procedures through lawsuits, by money, and by writing clauses into their contracts, like in Lyndsay's case. In the contract they add a clause to intimidate her so she does not say anything in the media."
In response to Colosimo's vocal criticism, she received a letter from Ramos' lawyer, telling her to stop.
"It's not slander if it's the truth," Colosimo said.
Colosimo's attorney said many unlicensed plastic surgeons buy plastic surgeon degrees from other countries like Peru or Brazil.
Ramos refused multiple requests for an interview with Contact 5, but his attorney confirmed that he is not a licensed plastic surgeon in Colombia, but has a license from Brazil.
Victims of botched plastic surgery in Colombia also have to pay for their own experts if they want to pursue legal action against a surgeon. Victim groups have been trying to change legislation.
"Several bills have already been presented at the Congress of the Republic, promoted by victims," Urquijo said. "Colombian congressmen end up delating and disturbing the initiative because fake plastic surgeons are very powerful."
Ramos' lawyer said in an email that Colosimo knew and previously accepted the risks inherent in performing surgical procedures, including necrosis and infection.
"A lot of times [the unlicensed plastic surgeons] start telling lies about the victims, that they didn't keep up with the massages, wearing the bands." Urquijo said. "In Lyndsay's case, there is a rumor, they're saying that she was drunk. Basically they're trying to blame the patient."
Ramos' attorney emailed Contact 5 and accused Lyndsay of "consuming alcohol" in the days after the surgery. Colosimo denies drinking after her surgery.
"What they did to her is not normal," said Bernardo Guerra, a retired doctor and local politician in Medellin, Colombia.
Guerra has been trying for years to shut down unlicensed plastic surgeons. He said there are hundreds of them.
"Carlos Ramos has been denounced for more than 12 years as a fake plastic surgeon in Medellin," Guerra said. "He's paying off doctors to sign clinical paperwork. He's not a specialist."
Guerra said that over the last six years, 50 women have died from plastic surgery complications.
"[Unlicensed plastic surgeons] are lying to their patients and they're killing them," Guerra said.
Ramos was arrested in Miami in 2016 in connection with the death of one of his patients in Puerto Rico, Nancy Santana Garcia. Ramos was facing charges of practicing medicine illegally but was found not guilty.
"I don't understand how he was let go," Guerra said.
Ramos is also facing homicide charges for the death of another of his patients in Colombia.
"There is no respect for life, no ethics," Guerra said. "The sole interest is money."
The problem spans further than just Colombia, since people from across the world travel to the South American nation for plastic surgery.
"This is a public health problem, not just in Medellin, but in the United States," Guerra said. "Nobody is safe. There are victims from Atlanta, probably from every state."
Colosimo said that by speaking out, she hopes other women will avoid the mistake she made. In order for her to file a criminal case against Ramos, she will have to travel to Colombia again.
The road to recovery for Colosimo is going to be long. Doctors tell her it will take six months to a year and will require more surgeries, none of which are covered by her insurance.
What would she tell herself if she could go back in time?
"That I was good enough and I didn't need to do this," Colosimo said through tears. "Now I'm left feeling like a monster because of things I chose to do."