Palm Beach Surf Forecast, Updated local surf forecast for SE Florida
Updated: August 23, 2014 - Detailed Surf forecast for the Palm Beaches and Treasure Coast: No updates until Wednesday.
Rewind: Flatness prevails.

THE LOWDOWN: I did the video twice but there was no sound. Sorry.
Tropical disturbance over hispaniola is getting better organized but until it develops into something, we don't really know where it's going to go. It will be battling with the high mountains of Hispaniola on Saturday so it may now develop then, but by Sunday it should start to pull away which will give it a chance to finally spin up into tropical storm Cristobal.
Meanwhile, the backdoor cold front and assiciated low offshore of the northeast and mid atlantic will push down the coast setting up some NE fetch for us. It's not as strong as previous runs but it's still enough to send something. The problem is it'll get here the same exact time as Cristobal.
Again, it's useless to try to predict where Cristobal will go right now when it hasn't even formed. We will continue to see erratic model runs going back and forth until we can pinpoint an exact center. I'm thinking this will happen Sunday.
Whatever happens it still looks like we will get waves. The question will be the quality, how big, and how long it'll last. Right now it looks like it'll start either late Monday or Tuesday morning and at least go through Thursday. There's a pretty good chance Tuesday will be blown out with hard NE winds, but after that is in question depending on what happens with Cristobal.
There could be more developing after this too. That's not a stretch to say though, since that's what usually happens this time of year.
Climatologically says we should get more active now anyway, so we have that on our side. With that increase in activity climatologically going through mid September. We could get a burst of storms all at once, which definitely wouldn't maximize our swell potential, but at leas there will be something on the maps to bring us waves.
Still waiting for el NINO to kick in. It's VERY close. I think that's going to happen officially by September, October at the latest and will be a weak to moderate el nino.
This, along with some other factors I feel are going to lead into a good winter for surf. I'll give a winter surf outlook soon but here's my preliminary forecast.
November-December: Slow start to the winter with lots of windchop, not a lot of groundswell, and mild to warm temps.
January-February: Turning very cold,(maybe like 09-10) with many opportunities for solid groundswells and refraction swells galore. Hopefully you bought that toasty wetsuit because you'll be using it a lot.
It still is going to come down to the NAO being negative or not, but at least we are going to have other factors in our favor for a better swell season.
*NOTE: Also, I've researched the past 5 el ninos and made a startling discovery.... 4 out of 5 hurricane seasons AFTER the el nino years were off the charts with activity. 20+ storms form. So hang in there, we could be looking at a prolonged uptick in wave potential for the next year!....We shall see.
For more updates, Follow me on Twitter and Instagram for in the field and on the go updates: @surfnweatherman
----------------------------------------------------------------------------------------------------------------------------------
NAO: (We're looking for it to be negative in the winter)
The Arctic Oscillation: (looking for negative in the winter)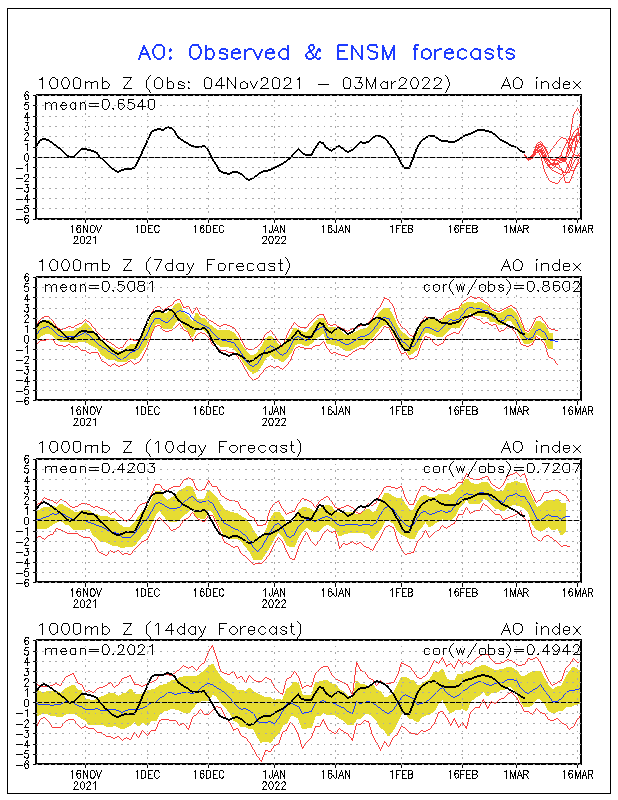 The PNA (we are looking for this to be POSITIVE in the winter)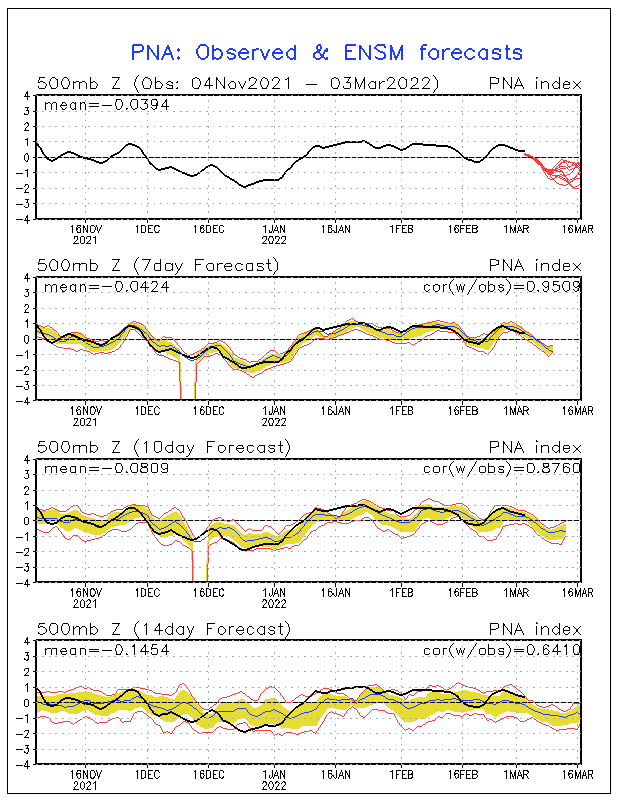 Check my Twitter feed below for up to the minute info : Follow @SurfnWeatherman
and don't forget to LIKE SURFIN WEATHERMAN on Facebook!
--------------------------------------------
Watch the new "The Impact Zone" which features all the latest surf photos and video from the last swell, interviews with local people, and a detailed surf forecast for the upcoming week. It'll be all interactive where you can chime in and make comments or ask questions. Check it out live Sunday nights at a new time, 8pm!!!!
---------------------------------------------
If you have any pictures or video you want everyone to see, upload them to our surfing section of the YOUREPORT page or post on the Surfin Weatherman Facebook Page.
You can also stay up to date by following me on TWITTER ( SurfnWeatherman) and Facebook ( Wavecaster Wieland)
-----------------------------------
James Wieland
Meteorologist/
Surf Forecaster
WPTV HD /
News Channel 5
West Palm Beach/
Treasure Coast
http://wptv.com/surfing
-----------------------------------
Palm Beach surf forecast refraction swell hurricane surf south Florida storm surf