Palm Beach Surf Forecast, Updated local surf forecast for SE Florida
Updated: April 16 2014 - Detailed Surf forecast for the Palm Beaches and Treasure Coast:
Rewind: Sorry, I've been off for a while. Went on a trip to Puerto Rico. Caught some fun waves, not epic but fun. Can't wait to go back. Such an easy trip from here and plenty of waves all over!.
Weather Synopsis: Cold front moves back north as a warm front Thursday. Wind will turn more east as medium period groundswell fills in Thursday and Friday. A Low will form in the gulf then move toward the state at that time. Models trending on pushing the low offshore and in the 'nook' by the weekend, which is an ideal position for us. It will give us a good fetch, plus turn winds offshore over most of the weekend!! It'll take a day or so for the swell from that to make it down here though, but there should be some leftover swell from the cold front that will make for clean surf over the weekend. The low will then slowly move east-northeast and weaken as it approaches Bermuda. This will keep swell around for a few days, just gradually getting smaller each day.
The Low Down
Water Temps: Lake Worth: 76, Sebastian 72.
THURSDAY: Medium period groundswell fills in. Chest in the morning, building to shoulder or so by the afternoon. Wind East 10-15kts will make it choppy but straight east isn't bad sometimes.
FRIDAY: Wind turns southeast 10-15kts in the morning cross-chopping it up. Swell drops but still stays waist to chest high. Wind may turn offshore late in the afternoon as the swell fades some to around waist high. Cleans up by nightfall.
SATURDAY: Wind turns around offshore and become breezy. This will blow the leftovers down some but still expect a clean waist high wave, bigger at standout spots and upcoast. Wind West turning NW 20-25kts.
SUNDAY: Offshore wind in the morning and small, then swell builds in. Waist high, then building to chest high plus. Winds will turn NE and blow it out by the end of the day but I think there will be a sweet spot time where the swell will be pumping and the winds will still be offshore, although the clean conditions might not last that long.
MONDAY: NE groundswell from the low in the nook peaks but so does the wind. Shoulder-head high with a NNE wind 15-20kts making for some big drift and choppy lines.
TUESDAY: Winds calm down quickly, and even go offshore in the morning. Surf drops but cleans up. Still should have some fun size though at waist to chest. Looking like some good quality at least. Widn will turn light NE through the day.
LOOKING AHEAD, LONG RANGE FORECAST: Swell may hang on another day Wednesday before dying out..
For more updates, Follow me on Twitter and Instagram for in the field and on the go updates: @surfnweatherman
No THE IMPACT ZONE show until April 27th.
NAO: (We're looking for it to be negative in the winter)
The Arctic Oscillation: (looking for negative in the winter)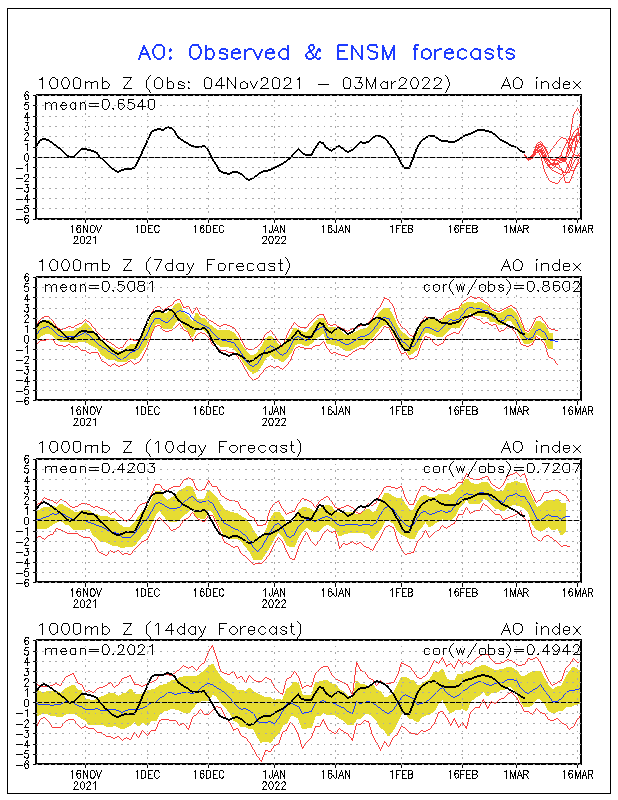 The PNA (we are looking for this to be POSITIVE in the winter)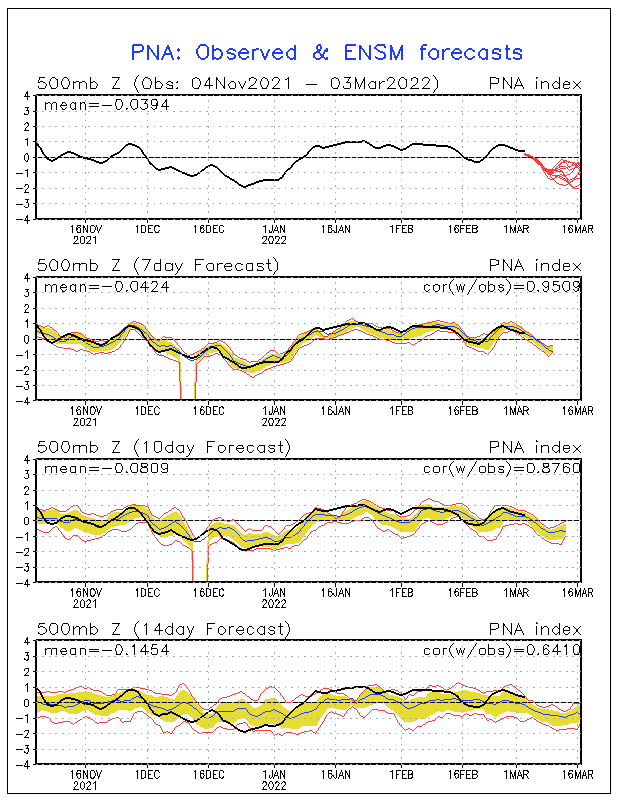 Check my Twitter feed below for up to the minute info : Follow @SurfnWeatherman
and don't forget to LIKE SURFIN WEATHERMAN on Facebook!
--------------------------------------------
Watch the new "The Impact Zone" which features all the latest surf photos and video from the last swell, interviews with local people, and a detailed surf forecast for the upcoming week. It'll be all interactive where you can chime in and make comments or ask questions. Check it out live Sunday nights at a new time, 8pm!!!!
---------------------------------------------
If you have any pictures or video you want everyone to see, upload them to our surfing section of the YOUREPORT page or post on the Surfin Weatherman Facebook Page.
You can also stay up to date by following me on TWITTER ( SurfnWeatherman) and Facebook ( Wavecaster Wieland)
-----------------------------------
James Wieland
Meteorologist/
Surf Forecaster
WPTV HD /
News Channel 5
West Palm Beach/
Treasure Coast
http://wptv.com/surfing
-----------------------------------
Palm Beach surf forecast refraction swell hurricane surf south Florida storm surf