Palm Beach Surf Forecast, Updated local surf forecast for SE Florida
Updated: January 29, 2015 - REWIND: Refraction swell didn't show up everywhere as planned. It wasn't a total bust though, south beach saw good swell, along with parts of south county. Refraction swells are not only tricky to predict, they are also tricky to say where they will end up.
ON THE MAPS: Quick update,True groundswell from the Blizzard showing already at areas beaches it's just choppy and blown out from onshore winds. Wind will go calm to light offshore overnight into Friday morning. The next cold front moves into the state turning winds SW in the afternoon. That means a nice clean-up for Friday.
Another shot of NE swell coming over the weekend with the next front. Wind turns quickly onshore though, providing some choppy, but rideable surf over Super Bowl weekend.
THE LOWDOWN:
FRIDAY: Calm wind in the morning with some leftover good, glassy groundswell. waist to chest but dropping quickly through the day.
SATURDAY: New surge of NNE/NE wind pushes down the state with a building choppy swell waist-chest building to shoulder hi by the end of the day. Choppy and drifty.
SUNDAY: Chest high plus NE groundswell mixed with SE windswell. Pretty sloppy. Wind ESE 20kts.
MONDAY: Wind turns SW and cleans it up. Waist high and clean and probably fun. Wind SW 15kts.
TUESDAY: Waist high and still fairly clean in the morning. Wind turns light onshore in the afternoon.
Long Ranger Surfcast: Still seeing very active and consistent patter for surf in the long term. Although every day won't be perfect, there will be rideable surf 5-6 days per week. Stay tuned!
Next update: SATURDAY PM
For more updates, Follow me on Twitter and Instagram for in the field and on the go updates: @surfnweatherman
----------------------------------------------------------------------------------------------------------------------------------
Teleconnections have not been working well this winter, but here's what normally we would look at:
NAO: (We're looking for it to be negative in the winter)
The Arctic Oscillation: (looking for negative in the winter)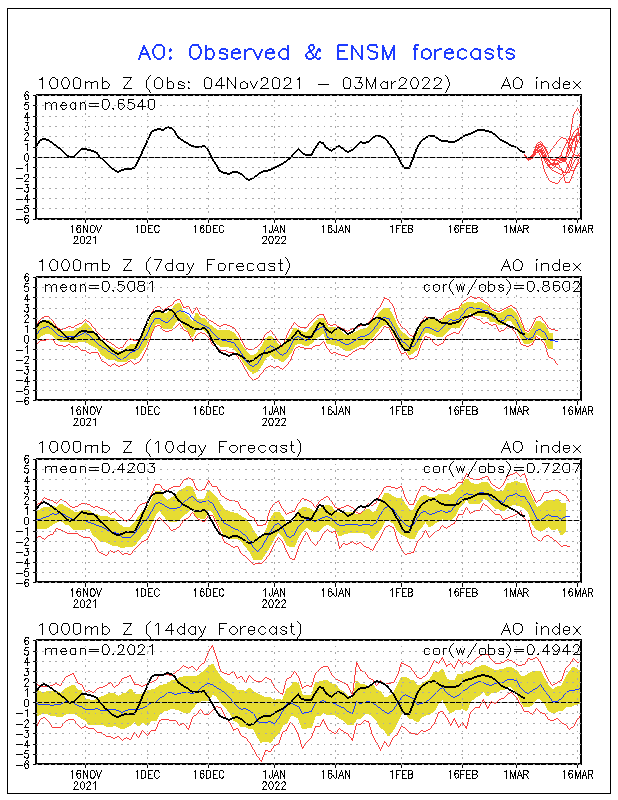 The PNA (we are looking for this to be POSITIVE in the winter)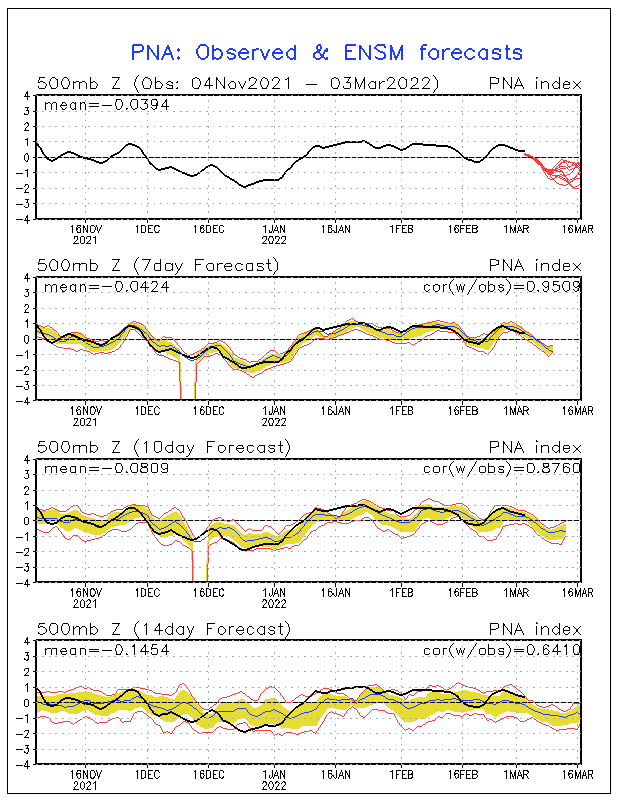 Check my Twitter feed below for up to the minute info : Follow @SurfnWeatherman
and don't forget to LIKE SURFIN WEATHERMAN on Facebook!
--------------------------------------------
Watch the new "The Impact Zone" which features all the latest surf photos and video from the last swell, interviews with local people, and a detailed surf forecast for the upcoming week. It'll be all interactive where you can chime in and make comments or ask questions. Check it out live Sunday nights at a new time, 8pm!!!!
---------------------------------------------
If you have any pictures or video you want everyone to see, upload them to our surfing section of the YOUREPORT page or post on the Surfin Weatherman Facebook Page.
You can also stay up to date by following me on TWITTER ( SurfnWeatherman) and Facebook ( Wavecaster Wieland)
-----------------------------------
James Wieland
Meteorologist/
Surf Forecaster
WPTV HD /
News Channel 5
West Palm Beach/
Treasure Coast
http://wptv.com/surfing
-----------------------------------
Palm Beach surf forecast refraction swell hurricane surf south Florida storm surf