Palm Beach Surf Forecast, Updated local surf forecast for SE Florida
Updated: September 21, 2014 - Detailed Surf forecast for the Palm Beaches and Treasure Coast:
NEXT UPDATE WEDNESDSAY

Rewind: Edouard swell was great! Pushed down a little farther than I thought, into Jensen Beach. Yew! NE swell that I predicted a week ago materialized Sunday! Waist high plus with super glassy conditions in the morning. It's been a good run!
New Video surfcast posted Sunday night 9-21-14!!!
ON THE MAPS: Low pressure that created the NE swell Sunday has moved too close to land and too far north to be making more surf, expect the swell to die out by the end of the day Monday. Watching a tropical wave entering the Caribbean right now. It'll be south of us Wednesday with the northern fringe of it effecting our area. After it passes to the west of us, East-SE wind will pick up and build in some short period windchop.
At the same time a cold front moves off the mid Atlantic and low pressure starts to develop along it. This will increase the NE winds to the west of the frontal boundary and make a nice NE fetch in our swell window. The swell from this should arrive around Thursday, and depending on how long it stays out there, could continue into the weekend. The GFS right now has the low/front sitting our there a while and pumping in swell through about next Monday. The euro however is much more brief and cuts the swell off early in the weekend. Either way it looks like a forecast filled with some surf this upcoming week!. Nothing big, on average waist high or so but at least it'll be rideable with some variety!
THE LOWDOWN:
ALERT!: Moon Jellies and sea lice are all over the place in PBC!
MONDAY: Leftover NE swell continues waist high in the morning and super glassy and clean. The only problem will be high tide is around 8am so find a place that can handle the fuller tide. Wind will turn onshore in the afternoon. Storms should fire up and move back toward the coast late in the day too. T
TUESDAY: NE swell fades, onshore wind starts to pick up. Knee high or less and choppy.
WEDNESDAY: Building short period windchop from the tropical wave passing to the south. knee-waist high and dumpy. Biggest in the morning then dropping later in the day. Wind East 15kts.
THURSDAY: New NE swell will start to build in. Wind stays on it though. small knee high in the morning building to waist hi in the afternoon. Wind SE 10-15kts cross-chopping it up.
FRIDAY: NE swell continues or even builds a little more. Waist high or so. Wind a little lighter, especially in the morning. SSE 5-10kts. Semi-choppy.
WEEKEND: Possible continuing waist high or so NE groundswell into Palm Beach County with light to offshore winds!!, stay tuned!.
Long Range Surfcast:
GFS wants to spin up another tropical system off the coast around the first week of October. Depending on it's positioning, this could be another good wavemaker for us to start off October!
Climatologically we are now past the peak of Hurricane season. But don't let your guard down yet! more storms hit south Florida in October than any other time.

Still waiting for el NINO to kick in. It's VERY, VERY close. I think that's going to happen officially by This month or October and it will be a weak to moderate el nino.
This, along with some other factors I feel are going to lead us into a good winter for surf. I'll give a winter surf outlook soon but here's my preliminary forecast.
PRELIMINARY WINTER SURF OUTLOOK
November-December: Slow start to the winter with lots of windchop, not a lot of groundswell(not zero though), and mild to warmer-than-average temps.
January-February: Turning very cold,(maybe like 2009-10) with many opportunities for solid groundswells/ refraction swells galore. Hopefully you bought that toasty wetsuit because you'll be using it a lot.
It still is going to come down to the NAO being negative or not, but at least we are going to have other factors in our favor for a better swell season.
*NOTE: Also, I've researched the past 5 el ninos and made a startling discovery.... 4 out of 5 hurricane seasons AFTER the el nino years were off the charts with activity. 20+ storms form. So hang in there, we could be looking at a prolonged uptick in wave potential for the next year!....We shall see.
For more updates, Follow me on Twitter and Instagram for in the field and on the go updates: @surfnweatherman
----------------------------------------------------------------------------------------------------------------------------------
NAO: (We're looking for it to be negative in the winter)
The Arctic Oscillation: (looking for negative in the winter)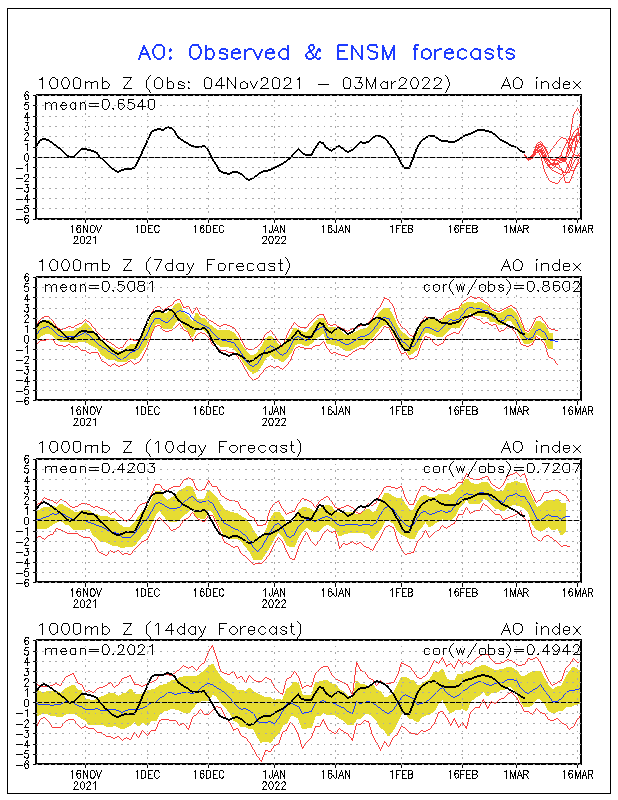 The PNA (we are looking for this to be POSITIVE in the winter)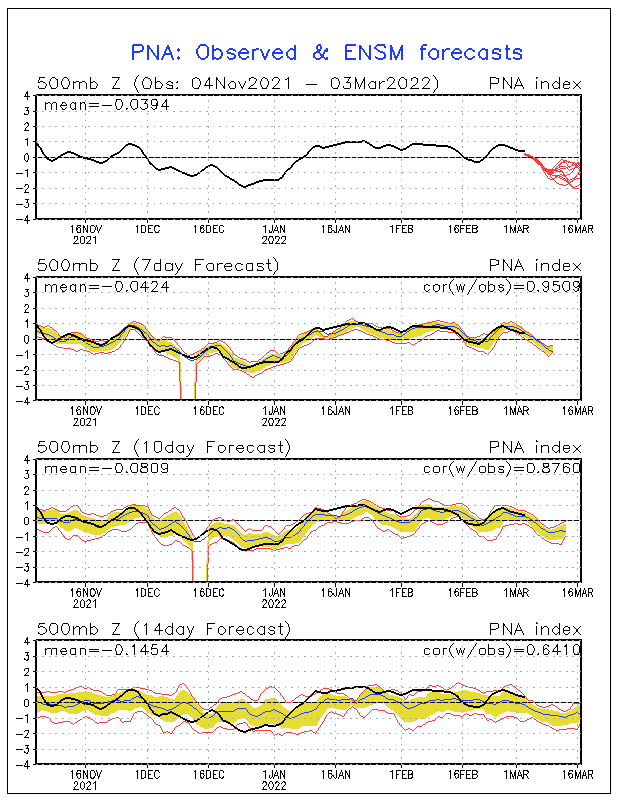 Check my Twitter feed below for up to the minute info : Follow @SurfnWeatherman
and don't forget to LIKE SURFIN WEATHERMAN on Facebook!
--------------------------------------------
Watch the new "The Impact Zone" which features all the latest surf photos and video from the last swell, interviews with local people, and a detailed surf forecast for the upcoming week. It'll be all interactive where you can chime in and make comments or ask questions. Check it out live Sunday nights at a new time, 8pm!!!!
---------------------------------------------
If you have any pictures or video you want everyone to see, upload them to our surfing section of the YOUREPORT page or post on the Surfin Weatherman Facebook Page.
You can also stay up to date by following me on TWITTER ( SurfnWeatherman) and Facebook ( Wavecaster Wieland)
-----------------------------------
James Wieland
Meteorologist/
Surf Forecaster
WPTV HD /
News Channel 5
West Palm Beach/
Treasure Coast
http://wptv.com/surfing
-----------------------------------
Palm Beach surf forecast refraction swell hurricane surf south Florida storm surf