Palm Beach Surf Forecast, Updated local surf forecast for SE Florida
Updated: July 28, 2014 - Detailed Surf forecast for the Palm Beaches and Treasure Coast:
Rewind: It's been pretty flat for a while.
Weather Synopsis: There are actually a few possibilities for surf coming up. First, An unusually strong cold front will push into north Florida and offshore of Hatteras. There's a weak NE fetch behind it. It's not the strongest but it does persist for a while and that could send a small bump down. Right now it looks super small and might not even be rideable.
The next thing is a broad low near the Azores that will drift back west into the middle of the Atlantic before it unwinds. It is a bit stronger than the above fetch but it is much farther away. It may be enough to send a small bump though to central and northern Florida by next Sunday or Monday.
Finally, Saving the best for last...the TROPICS will finally awaken. A tropical wave way out southwest of the Cape Verdes is going to be moving into a favorable area for development mid-week. Models are picking up on this and spinning up our next tropical system which would be Bertha. Wednesday we might see it become official. It will be in-between the African dust train and also in a calmer shear environment. Water temps are plenty warm so the fuel is there to get this thing going. The only downside I see right now is that there are two distinct areas right now, that would have to consolidate into one before things can really get going. High pressure in the middle of the Atlantic will steer the system westward toward the leeward islands by the weekend. Then a weakness in the high (caused by the aforementioned cold front) will draw the storm northward around Bermuda. IF this scenario takes place, (notice the big IF) We could see some swell as early as Monday the 4th lasting through mid week. This path doesn't bring surf to south Florida, however a trip upcoast to central Florida would score some surf. Local winds even look good too right now. PLENTY of time to keep an eye on this. Just so you don't get too excited...The euro model has NOTHING right now, and it's usually more accurate. I'll keep you updated. Next update Wednesday.
The Low Down
Flat this week with offshore winds.
Water Temps: 85.
LOOKING AHEAD, LONG RANGE FORECAST: August is when we really ramp up the tropical activity very quickly. Even though June and July have been slow, they are supposed to be slow.
Still waiting for el NINO to kick in. We have the warmer water but it's only shallow and we still don't have the pressure anomalies and wind that go along with el nino. It is still forecast to kick in around the end of summer, but models are trending it to be weaker that originally forecast. Here's a good blog post from NOAA explaining what's going on right now.
The effects right now are still somewhat the same, strong upper level shearing through the Caribbean. We also have a lot of dry Saharan air(SAL) in the tropical Atlantic which inhibits development. That's what killed last year's season, and TD#2.
El nino years bring some erratic tracks too, which can be good for surf if we get a storm to do some loops out there. El Nino years also keep the tropical activity close to home. A lot of home grown type storms that develop close to land, and fewer long track storms that cross the Atlantic.
El ninos usually last about a year though and as we go into next winter, we could be looking at a very good surf season. Also, I've researched the past 5 el ninos and made a startling discovery.... 4 out of 5 hurricane seasons AFTER the el nino years were off the charts with activity. 20+ storms form. We shall see.
For more updates, Follow me on Twitter and Instagram for in the field and on the go updates: @surfnweatherman
Not many updates until we at least get a chance for some surf.
Still trying to find another computer to do the IMPACT ZONE show on. Hang in there! I'll find one!
NAO: (We're looking for it to be negative in the winter)
The Arctic Oscillation: (looking for negative in the winter)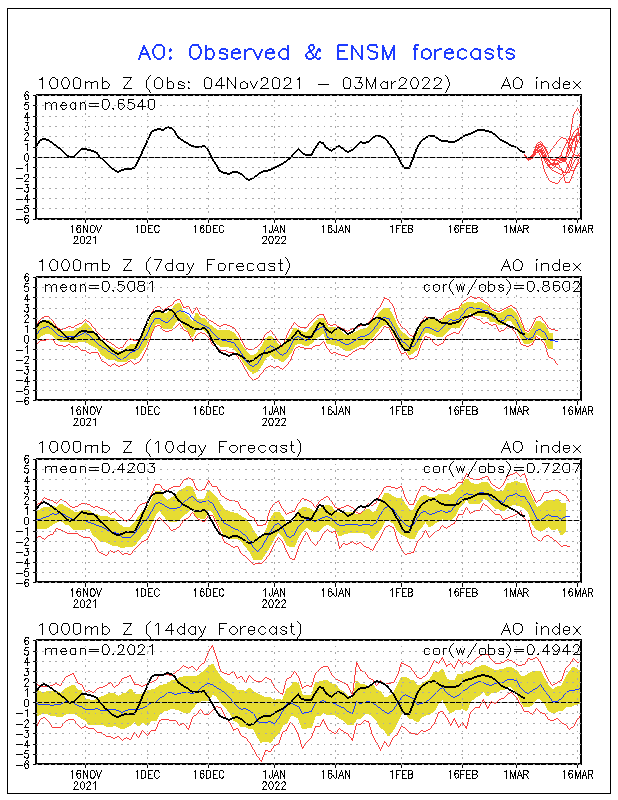 The PNA (we are looking for this to be POSITIVE in the winter)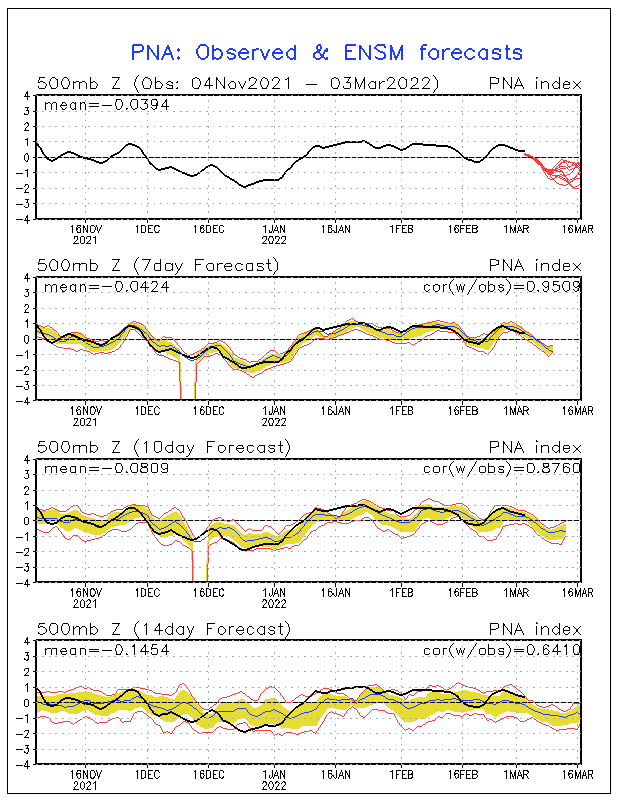 Check my Twitter feed below for up to the minute info : Follow @SurfnWeatherman
and don't forget to LIKE SURFIN WEATHERMAN on Facebook!
--------------------------------------------
Watch the new "The Impact Zone" which features all the latest surf photos and video from the last swell, interviews with local people, and a detailed surf forecast for the upcoming week. It'll be all interactive where you can chime in and make comments or ask questions. Check it out live Sunday nights at a new time, 8pm!!!!
---------------------------------------------
If you have any pictures or video you want everyone to see, upload them to our surfing section of the YOUREPORT page or post on the Surfin Weatherman Facebook Page.
You can also stay up to date by following me on TWITTER ( SurfnWeatherman) and Facebook ( Wavecaster Wieland)
-----------------------------------
James Wieland
Meteorologist/
Surf Forecaster
WPTV HD /
News Channel 5
West Palm Beach/
Treasure Coast
http://wptv.com/surfing
-----------------------------------
Palm Beach surf forecast refraction swell hurricane surf south Florida storm surf