Palm Beach Surf Forecast, Updated local surf forecast for SE Florida
Updated: June 19, 2017 - Surf forecast for the Palm Beaches and Treasure Coast.
REWIND: Pretty flat for International Surfing Day today
SURFCAST DISCUSSION
All eyes on the tropics right now. 93L in the NW Caribbean right now will slowly move into the southern Gulf by Monday. It'll likely spin up into a depression and then possibly Tropical Storm Bret. Even though it's not going to directly move over us. A surge of southeast winds will push through the Bahamas starting Sunday night. This will bring us a couple days of southeast windchop. If you want to storm chase...it looks like the Panhandle will be the place to be. Tuesday in Panama City looking really good right now, but keep in mind the storm has the potential to hit around there. If it moves toward Texas...Winds will turn onshore quickly up there.
Spaghetti models tracks for invest 93L. Euro not listed, takes it into N. Mexico #tropics pic.twitter.com/kvgRMcGadU

— James Wieland (@SurfnWeatherman) June 18, 2017
SURFCAST SPECIFICS:
SUNDAY: Knee high or less most of the day. Some SE windchop may build in by the end of the day. Building SSE windchop. Wind picking up during the day along with rain.
MONDAY: Waist to maybe chest high SE tropi-chop from a tropical wave/depression moving through. WInd SSE 20-25kts. Lots of drift.
TUESDAY: Drifty waist-chest high SSE windchop continues. Drops some during the day. Wind SSE 20kts+.
WEDNESDAY: knee-thigh high and fading fast SE windchop. WInd SE 10-15kts. Cleaner leftovers upcoast.
THURSDAY: Flat, but maybe leftover East swell upcoast with light wind.
LONG RANGE SURFCAST
The tropical wave way out in the Atlantic (92L) has a good chance to develop into a tropical storm too. This one will stay pretty far south then go into the Caribbean. Once in the central Caribbean it'll get torn to shreds and die out, not bringing any wave potential our way.
The rest of the season...conditions continue to improve for a more active Hurricane season outlook. A month ago there were cooler water temps in the tropical birthing grounds, el nino forming, and a super warm gulf. Since then things have drastically changed! The Main development region is now WARMER than normal, el nino is NOT forming so shear won't be an issue to developing storms in the Tropical Atlantic. Now adding in also a favorable MJO, that's the extra enhanced rainfall that sometimes helps storms spark up.
All this adds up to now possibly seeing a busier than normal hurricane season! Which NOAA released their outlook and it says just that.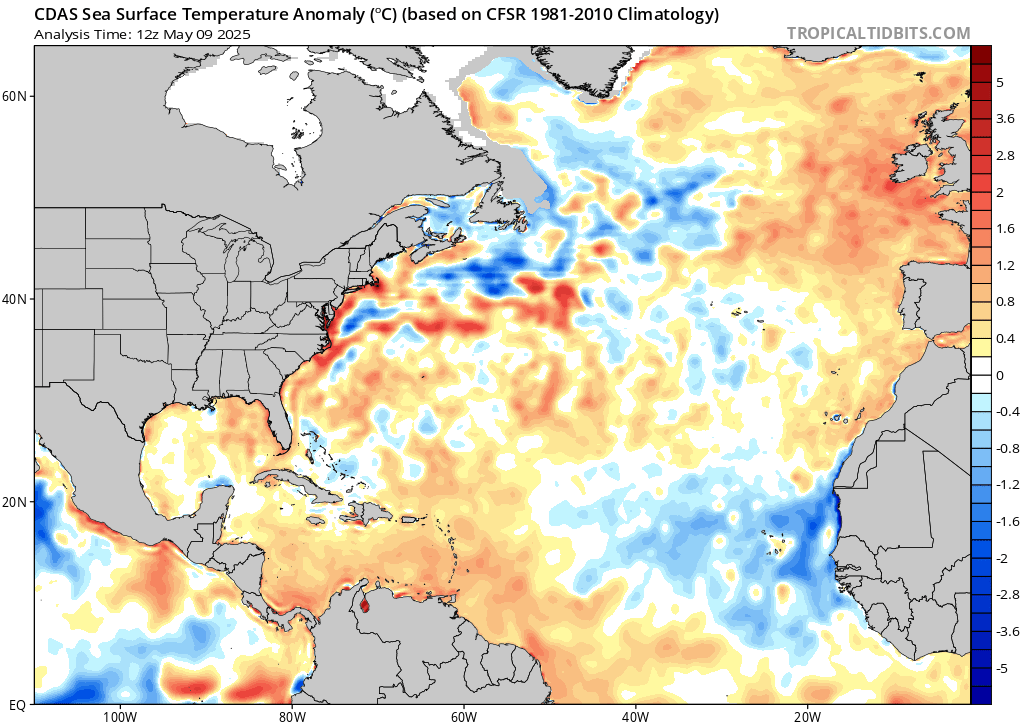 A strong factor that cannot be forecasted and has put the kibosh on some seasons is the dry air Saharan air layer(African dust) coming across the Atlantic. If there's a lot of it, it sucks the moisture out of any tropical wave, limiting development of weak waves, leaving only the strongest to have any chance for survival.
I got to chat with Dr. Klotzbach from Colorado State University about the season(he predicted below normal back in April) He talked about the big swing in initial conditions and would probably increase his numbers with the next update which is around the first week in June.
Of course more storms mean more swell chances, but it also means more chance that we get hit. There are some talks from some hurricane forecasters that this year may have more land falling storms. In fact, WeatherBell says low activity overall, but high impact on the U.S. And with the water so warm close to the east coast....storms could quickly strengthen before getting close to land. The hot spot may be the Carolinas. But Florida sticks out like a sore thumb for any storm trying to curve north. Let's hope this isn't our year for that, and we get some close(but not too close) sweeps that send good swell without all the mess.
Follow my social media accounts:
Check my Instagram account for current updates...
SNAPCHAT: surfnweatherman
LOCAL WIND FORECAST:

My buddy is still missing in the Dominican Republic. It's been over a year now!
I appreciate anything you can do to get the word out. Here's the latest information on all that we know:

Now they need help with the costs, Check out the GOFUNDME page: https://www.gofundme.com/hrt7yxgk