Palm Beach Surf Forecast, Updated local surf forecast for SE Florida
Updated: Sept 25, 2016 - For those who haven't heard, My buddy is still missing in the Dominican Republic. It's been more than 6 months now!
I appreciate anything you can do to get the word out. Here's the latest information on all that we know:

Now they need help with the costs, Check out the GOFUNDME page: https://www.gofundme.com/hrt7yxgk
****Not going to be able to update this for a bit, I'm taking some much needed time off.
Surf forecast for the Palm Beaches and Treasure Coast.
REWIND: Fun swell from Karl upcoast past few days. Saturday was super glassy, Sunday has some wind on it but was still fun. Waist to maybe chest high sets.
SURFCAST DISCUSSION
Light onshore wind pattern for us. Rain chance remain pretty high as a mid level system hangs around.
High pressure pushing off the mid-Atlantic and Northeast does have a little fetch pointed at us and will send a little swell our way on Wednesday...passibly even into Palm Beach County. Local winds looks good too.
Then low pressure cuts off over Pennsylvania/West Virginia Wednesday. That will actually send a cold front down through about half the state before it stalls. We may even see some (somewhat) less humid air filter down.
It finally will kick out and high pressure will move east and offshore setting up another long NE fetch. This may push through the state bringing some windchop. Then all eyes to the south when invest 97L decides on where it's going.
In the Tropics
Tropical Storm Karl is now extratropical and racing into the north Atlantic. Swell from Karl will slowly die out late Monday.
Tropical wave 97L: A tropical wave is quickly moving westward across the tropical Atlantic. It has a good chance to develop just before the lesser Antilles. It's expected to make it into the Caribbean by Thursday. Conditions will be pretty favorable and the storm could strengthen a lot as it slows forward speed while moving west. This one is pretty far south, skirting The Grenadines to Aruba off south America. By Sunday it may or may not make a turn to the north. Still too many variables to tell where it'll go after that. But it's something we should watch closely.
The few basic options are:
1. Turn north before us.This would be the best option for surf. It would send a nice swell as it moved north of the Bahamas and up the east coast while staying out to sea. Winds will turn offshore too so there would be some all-time surf hitting if this happened.
2. Stay south of us and head into the Caribbean. This would bring some windchop our way for a day or two.
3. Turn north and move over us. Not good, let's hope this doesn't happen.
WEEKLY SURFCAST:
MONDAY: Morning best with the tide and lighter wind upcoast. Waist high, maybe still stomach plus sets early. Swell fades through the day. Light wind in the morning with semi-choppy conditions in the afternoon. Probably not breaking by the end of the day's high tide.
TUESDAY: Knee high or less with onshore wind picking up some.
WEDNESDAY: Small ENE swell building in, mostly upcoast but possibly pushing into Palm Beach County. Around waist high and clean. Wind light offshore turning onshore with the seabreeze in the afternoon.
THURSDAY-SATURDAY: flat for PBC. Knee/thigh high upcoast.
LONG RANGE SURFCAST
All eyes going to be on invest 97/Matthew in a week/week and a half. Latest model run looks ideal for epic swell but this has been changing daily. Most models do predict a strong tropical system in the Caribbean, ending up anywhere from Texas to Nova Scotia. Yeah, that's quite a spread right now. Look for that to be narrowed down during the upcoming week. Timing right now will be around Oct 5-ish.
It looking like the tropics could stay a player all the way into November this year. Winter cold fronts will get a late start so it'll be nice to have some more wave options out there, as long as they don't hit us!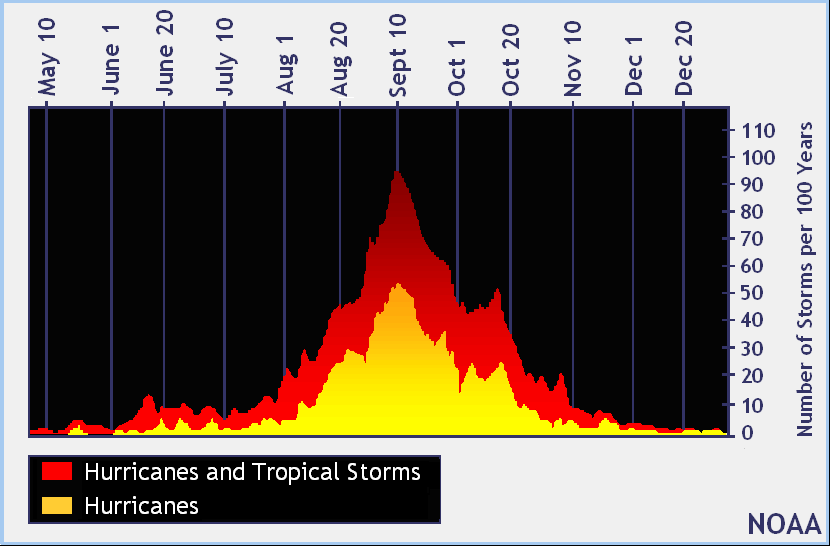 The la Nina never really got going. We are in a neutral pattern. The winter will be dependent of the NAO staying positive or going negative. It's been positive the past few winters really. We really need to to be negative. Early forecasts showing a late start to the winter, but a late end to hurricane season keeping some options open for south Florida.
Check my Instagram and twitter accounts for current updates...
SNAPCHAT: surfnweatherman