Palm Beach Surf Forecast, Updated local surf forecast for SE Florida
Updated: November 23, 2014 - Detailed Surf forecast for the Palm Beaches and Treasure Coast:
Rewind: Windchop continued Sunday but was on the decline through the day. Some spots were super fun.
ON THE MAPS:
Cold front stallsaround the cape Monday night. Wind dies out and turns offshore Monday and Tuesday. South Florida goes flat but upcoast should have a real fun chest high clean peaky wave going. Dropping some Tuesday. Low pressure will form along the front in response to a short wave swinging through late Tuesday. This will finally crank the front through south Florida and give us a blast of NW winds, and a new refraction swell!
THE LOWDOWN:
MONDAY: Small knee high or less for south Florida as the wind dies out. Upcoast wind turns offshore with still some east swell train rolling in. Waist to chest St. Lucie county northward, possible bigger space coast. Clean and peaky. should be real fun. Wind SSW 10-15kts. Time for a road trip!
TUESDAY: small to flat for south Florida wind SE 10-15kts. Still a clean waist high wave upcoast but dropping. Wind NE 10kts.
WEDNESDAY: Models delaying front now until the afternoon. Still a possibility something builds in through the afternoon but less likely now. Otherwise it'll start to pick up overnight. Wind West, then NW 20+kts.
TURKEYDAY: Clean for the dawn patrol waist-chest+ high with a strong offshore wind NW 20+kts. Wind turns side-onshore in the afternoon. Although there are indications it will only turn north, then back NW overnight.
FRIDAY: Looking now like another clean morning with wind still NW. Waist-chest range. Wind will quickly turn onshore mid morning and blow it out.
Long Range Surfcast: Wind stays up and turns more east over the weekend. Rideable windchop should last a couple days longer. Stay tuned!

The winter surf season:
A weak to moderate el nino, possibly a negative AO/NAO, along with some other factors I feel are going to lead us into a good winter for surf. Here's my preliminary forecast.
WINTER SURF OUTLOOK UPDATE
November-December: November looks good. Looks like some good opportunites for groundswell each week with windchop in between. Not bad! December might slow down, but I think the quality will be there with at least one good swell per week.
January-February: Turning much colder, with opportunities for solid groundswells/ refraction swells.
February we normally slow down with the number of swells but I think this year we will turn it on.
We'll really have to keep an eye on the NAO/AO all winter since that's the strongest driver in how much cold air gets down into Florida and if the lows that push them down will go out to sea or not.
Early look at the spring looks good for surf too!
For more updates, Follow me on Twitter and Instagram for in the field and on the go updates: @surfnweatherman
----------------------------------------------------------------------------------------------------------------------------------
NAO: (We're looking for it to be negative in the winter)
The Arctic Oscillation: (looking for negative in the winter)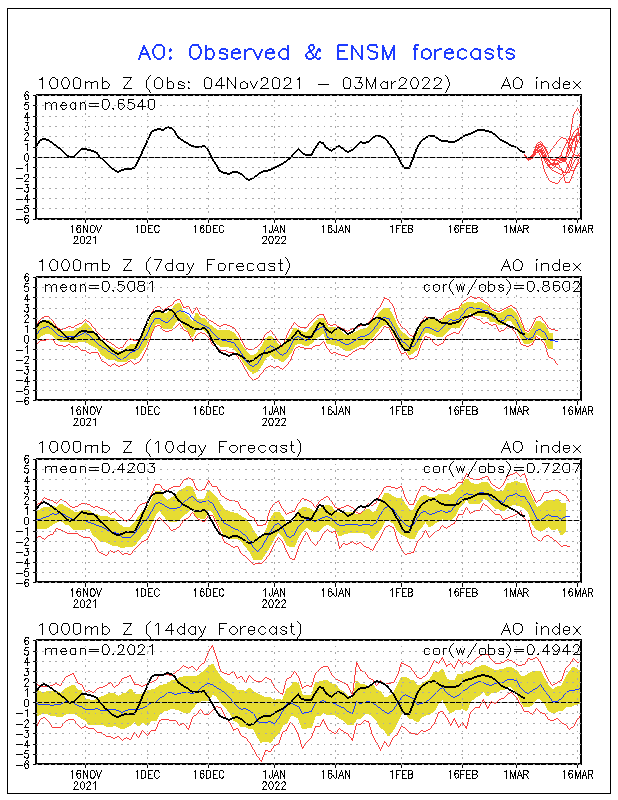 The PNA (we are looking for this to be POSITIVE in the winter)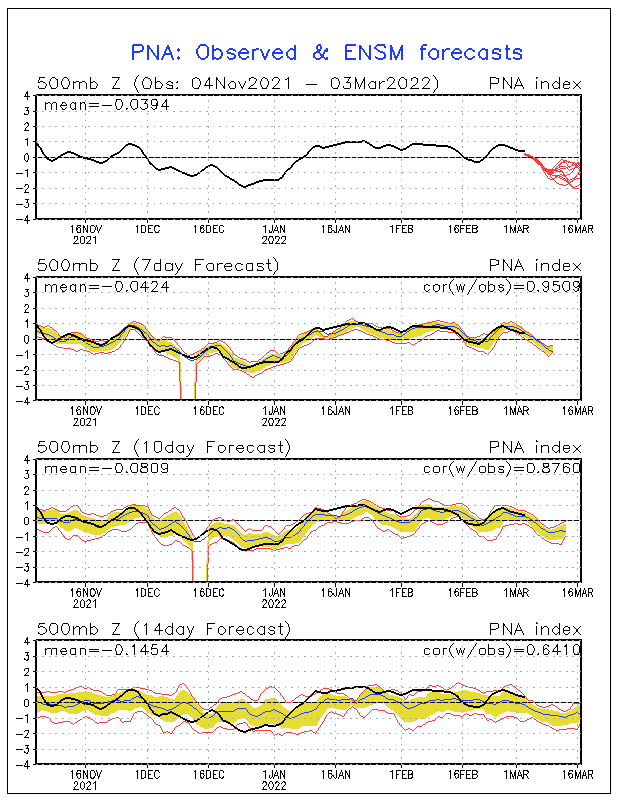 Check my Twitter feed below for up to the minute info : Follow @SurfnWeatherman
and don't forget to LIKE SURFIN WEATHERMAN on Facebook!
--------------------------------------------
Watch the new "The Impact Zone" which features all the latest surf photos and video from the last swell, interviews with local people, and a detailed surf forecast for the upcoming week. It'll be all interactive where you can chime in and make comments or ask questions. Check it out live Sunday nights at a new time, 8pm!!!!
---------------------------------------------
If you have any pictures or video you want everyone to see, upload them to our surfing section of the YOUREPORT page or post on the Surfin Weatherman Facebook Page.
You can also stay up to date by following me on TWITTER ( SurfnWeatherman) and Facebook ( Wavecaster Wieland)
-----------------------------------
James Wieland
Meteorologist/
Surf Forecaster
WPTV HD /
News Channel 5
West Palm Beach/
Treasure Coast
http://wptv.com/surfing
-----------------------------------
Palm Beach surf forecast refraction swell hurricane surf south Florida storm surf