Palm Beach Surf Forecast, Updated local surf forecast for SE Florida
Updated: January 25, 2015 - REWIND: Refraction swell showed up Sunday. About waist high on average. Best in themorning then died out. Some spots mushy, some breaking a little harder on the beach, Saw this guy get a few barrel attempts.
ON THE MAPS: Cold front to the south and strong WNW winds right now across the state and outer waters. while a snowstorm buffets the New England coast. The low in New England didn't go far enough offshore for a swell for us so we are left with the possibility for the elusive refraction swell. I'm a little iffy on this one because I don't think the NW winds are going to last long enough. Normally we need a NW wind for at least 12-18hrs cranking at 20-30kts to get some good refraction action. Wind direction can be anywhere from WNW to NNW but NW is best. The wind is forecast to die out overnight and be light NW on Sunday. Good for swell, if we had it. My guess is something small (waist or below) or nothing at all. It's definitely worth a check in the morning.
The better bet will be with the next punch of cold air and NW winds coming on Monday. It looks like this one will last a couple days, plus be more NW which is both in our favor. Also, the parent low may move farther offshore than the first one and that will send a true groundswell by Thursday. Unfortunately by Thursday winds turn onshore. I'm thinking this one will start trending closer to the coast anyway like the last one was. So don't get too excited yet. Better bet will be the refraction chances Tuesday and Wednesday.
THE LOWDOWN:
MONDAY: Flat to start out then another reinforcing cold front moves through with a blast of cold west then NW winds. Setting up for some refraction swell possibly coming by teh end of the day. Wind WNW 20-30kts.
TUESDAY: Refraction action!. Chest to shoulder high swell with breezy NW winds all day. Definitely a better set-up for a bigger refraction swell than the previous. Wind NW 15-25kts.
WEDNESDAY: Another reinforcing shot of cold air with strong NW winds keeps the swell going. Wind will turn more north, then northeast by the end of the day. Chest-head high getting some chop on it by midday north of the bend, staying cleaner south. True long period groundswell arriving late in the day with some bombs rolling in by sunset, head high or so. Might even make it down to Miami.
THURSDAY: True north groundswell from the Northeast Blizzard fills in. Wind turns east though and makes it choppy. Wind will stay on the lighter side though so It might not be that bad. Wind dies out by the end of the day with a possible evening glass off. Hard north angle could even punch it all the way to Miami. Chest-head high plus,
FRIDAY: Calm wind in the morning with some leftover good, glassy groundswell. waist to chest but dropping quickly through the day.
Long Ranger Surfcast: Definitely a change in the weather pattern for us as winter really kicks in with colder temps, and very active with frequent winter storms moving east giving us a more consistent surf outlook.
Another front moves through super bowl weekend which could give another quick shot of swell. Too early to tell right now. Also another mega-storm might be in the works after that....Stay tuned!
Next update: WEDNESDAY PM
For more updates, Follow me on Twitter and Instagram for in the field and on the go updates: @surfnweatherman
----------------------------------------------------------------------------------------------------------------------------------
Teleconnections have not been working well this winter, but here's what normally we would look at:
NAO: (We're looking for it to be negative in the winter)
The Arctic Oscillation: (looking for negative in the winter)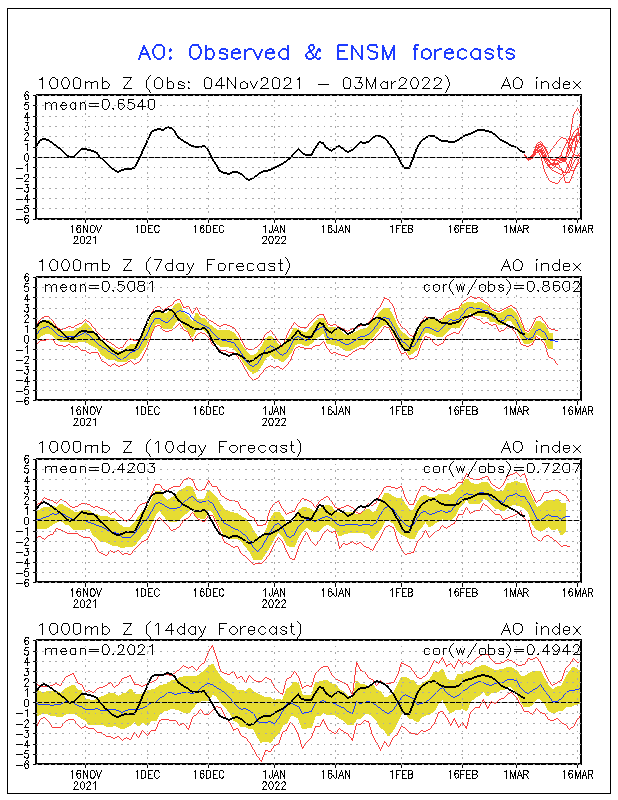 The PNA (we are looking for this to be POSITIVE in the winter)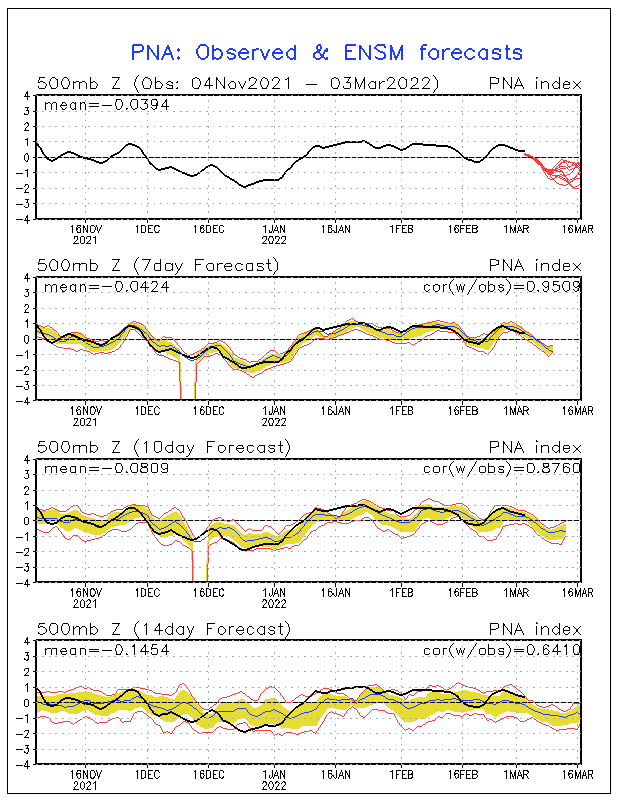 Check my Twitter feed below for up to the minute info : Follow @SurfnWeatherman
and don't forget to LIKE SURFIN WEATHERMAN on Facebook!
--------------------------------------------
Watch the new "The Impact Zone" which features all the latest surf photos and video from the last swell, interviews with local people, and a detailed surf forecast for the upcoming week. It'll be all interactive where you can chime in and make comments or ask questions. Check it out live Sunday nights at a new time, 8pm!!!!
---------------------------------------------
If you have any pictures or video you want everyone to see, upload them to our surfing section of the YOUREPORT page or post on the Surfin Weatherman Facebook Page.
You can also stay up to date by following me on TWITTER ( SurfnWeatherman) and Facebook ( Wavecaster Wieland)
-----------------------------------
James Wieland
Meteorologist/
Surf Forecaster
WPTV HD /
News Channel 5
West Palm Beach/
Treasure Coast
http://wptv.com/surfing
-----------------------------------
Palm Beach surf forecast refraction swell hurricane surf south Florida storm surf