Record-breaking water slide is taller than these 10 landmarks
Kansas City's new Verruckt 168 feet tall, a record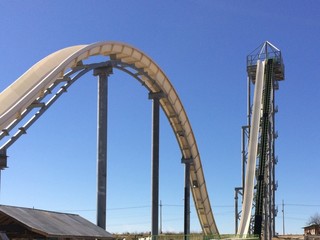 KANSAS CITY, Kan. - Theme park season is in full swing and as thrillseekers travel around the world looking for their next scream, Kansas is about to become a top destination.
The new Verruckt waterslide is set to open at Schlitterbahn waterpark in Kansas City this summer, shattering world records when it does. The slide's highest drop is 168 feet tall, making it the tallest in the world, ahead of Brazil's 164-feet tall Kilimanjaro. America's next-tallest slide is the Deep Water Dive in Louisville, Kentucky, which stands at a height of 121 feet.
The grand opening of Verruckt, which translates to "insane" in German, has been delayed several times, as KSHB in Kansas City reports. While riders wait for the gargantuan slide to open, here's a list of 10 world landmarks that are shorter than Verruckt:
Niagara Falls (167 feet tall)
The three waterfalls on the border of the United States and Canada have a legacy of daredevils jumping in the water and going over the falls. If you take a seat on one of Verruckt's tubes you'll take an even longer plunge than the Niagara's barrel riders.
Goliath in Gurnee, Illinois (165 feet tall)
The second-tallest wooden roller coaster in North America stands at 165 feet tall. This record-breaking coaster first launched this year at Six Flags Great America in Illinois.
Arc de Triomphe in Paris, France (160 feet tall)
One of France's most recognizable landmarks, the Arc de Triomphe has been standing nearly 200 years. The arch, meant to honor fallen soliders from the French Revolution and Napoleonic Wars, is about 8 feet shorter than the Verruckt.
The Colosseum in Rome, Italy (159 feet tall)
Many brave gladiators may have lost their lives inside Rome's iconic Colosseum but the structure's highest height can't measure up to Verruckt's first drop. Granted, the Colosseum had about a 1,900 year head start.
Saint Basil's Cathedral in Moscow, Russia (156 feet tall)
The world-famous former church on Red Square in Moscow has impressed onlookers for over 450 years but its tallest peak is still more than 10 feet shorter than Verruckt. It's safe to imagine Ivan the Terrible would be very upset.
Capitol Records Tower in Los Angeles (151 feet tall)
The world's tallest stack of records, LA's Capitol Records Building is a designated historical landmark in the City of Angels. Holding 13 stories, if you stood atop the tower's antenna you'd still be well short of Verruckt's slippery drop.
Busch Stadium in St. Louis (130 feet tall)
Located about 250 miles from Six Flags Great America, Busch Stadium has been home to two World Series titles, an MLB All-Star Game and professional soccer matches since its opening in 2006. Nearly 50,000 will pack the ballpark at capacity but even the highest nosebleed seat is dwarfed by Verruckt.
Christ the Redeemer in Rio de Janeiro, Brazil (125 feet tall)
Standing atop Brazil's Corcovado mountain, this massive statue has been a tourist destination since 1931. Discounting the mountain, Cristo Redentor wouldn't be able to see over Verruckt's massive drop.
Colossus of Rhodes in Greece (98 feet tall)
No photos exist of Greece's legendary Colossus of Rhodes but history tells us it was about 70 feet shorter than Verruckt. The statue, dubbed one of the Seven Wonders of the Ancient World, was destroyed by an earthquake in 226 B.C.
Great Sphinx in Giza, Egypt (66 feet tall)
The world's oldest monument has inspired awe since about 2550 B.C., but if you stood on top of the mythical statue you'd be over 100 feet below the height of Verruckt's first drop.
Follow this writer on Twitter @MrClintDavis