Readers pick the stories: Company tests custom newspaper
PaperLater promises less distracted reading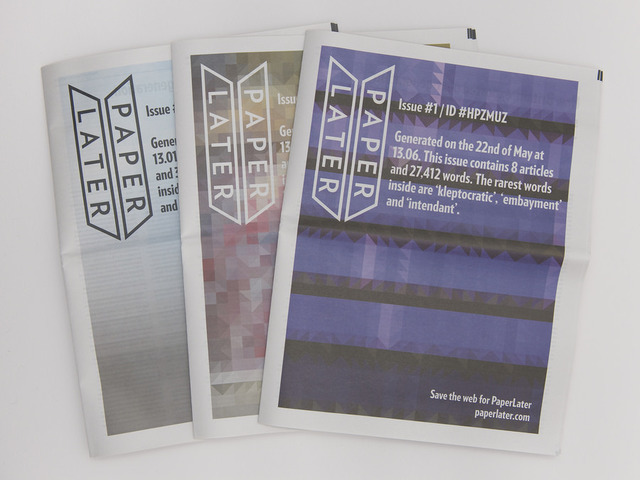 LONDON - Who says print is dead?
A British printing company is testing a system that will allow users to read a custom-printed newspaper featuring articles they've bookmarked from the Internet.
PaperLater, from the Newspaper Club, is currently an invite-only beta that promises to help "take stuff you don't want to read on screen and print it as a newspaper," according to their website. The service runs £4.99 ($8.50) per issue and delivery takes three to five days.
The service was designed to create a distraction-free method of reading content from the World Wide Web. Users save their links to PaperLater in a fashion similar to using read-it-later services like Pocket or Instapaper.
Distractions on the Web aren't hard to come by, according to studies. NBC News recently cited research indicating students couldn't concentrate on homework for more than two minutes without being diverted by social media or email.
The company requires a minimum eight pages of content but will print up to 24 pages. Users can't bookmark "image-heavy pages, such as galleries or slideshows," according to PaperLater's website.
PaperLater was reviewed by technology website The Verge, who concluded it was an easier way to read the Web.
"I read through all of the 28,361 words in my personalized paper in a single sitting. I can't remember a time I've ever sat in front of my computer and read so much uninterrupted," Aaron Souppoouris wrote.
There's no timeline for when PaperLater could be available in the U.S., but Newspaper Club is taking requests for other test markets at its website.
A demonstration of a finished paper: