Handwritten lyrics mean big money at auction
Dylan, Beatles drafts command over $1 million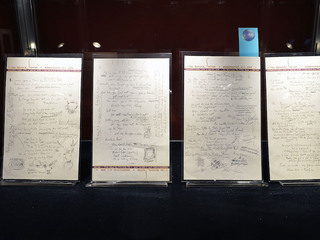 NEW YORK CITY - "How does it feel?"
Bob Dylan's "Like a Rolling Stone," the greatest song in rock history, according to Rolling Stone magazine, was written about a privileged girl learning hard lessons about what it's like to live in the real world. Today, a very wealthy person will take the handwritten lyrics to that legendary tune home.
Dylan's working draft of the 1965 track went on sale this morning at Sotheby's auction house in New York City, as part of a collection called, "A Rock & Roll History: Presley to Punk."
"Like a Rolling Stone" is expected to sell for between $1 million and $2 million, while other handwritten lyric sheets are expected to fetch high prices as well. Bruce Springsteen's lyric manuscript to "Thunder Road" ($30,000 to $50,000), Jim Morrison's "Love Her Madly" ($40,000 to $50,000) and Madonna's "Rock Your Body" ($3,000 to $5,000) will also be sold.
These handwritten scrawls are just the latest rock lyrics to beg big money at auction, here are some other classic verses that went under the gavel:
Song: "All You Need is Love" by The Beatles
Auction price: $1.25 million in 2005
This 1967 number one hit for the Fab Four fetched the highest price of any of the band's handwritten lyrics, according to Rolling Stone. In 2010, John Lennon's lyric sheet for "A Day in the Life" came close to the record, grabbing $1.2 million.
Song: "Born to Run" by Bruce Springsteen
Auction price: $197,000 in 2013
Another Sotheby's auction item, the handwritten verses for The Boss's classic 1975 anthem "Born to Run" went to an anonymous buyer last year. The document, torn from a spiral notebook, was mostly full of lines that didn't make it into the original song, according to Forbes.
Song: "The Times They Are a-Changin" by Bob Dylan
Auction price: $422,500 in 2010
Dylan's handwritten lyric sheet to this 1963 game-changer grabbed nearly a half-million at Sotheby's in 2010, according to Rolling Stone. The tattered sheet went to a hedge-fund trader who ended up getting a two-for-one deal as the lyrics for "North Country Blues" were scrawled on the back.
Song: "While My Guitar Gently Weeps" by George Harrison
Auction price: $509,000 in 2007
The lyrics for arguably Harrison's most epic Beatles tune went under the gavel at a British auction in 2007. The Daily Mail reports that several omitted lines left out of the final version were included on the page.
Song: "Bad" by Michael Jackson
Auction price: $30,720 in 2010
A year after the King of Pop's death, the handwritten lyrics for his 1987 number one smash "Bad" went to auction at Julien's. The sheet was part of a "Music Icons" collection that included Prince's handwritten lyrics to "Purple Rain," which grabbed $67,650. Sadly, the original draft of "Blue Suede Shoes" by Carl Perkins only went for $576 at the same auction.
Song: "The Jean Genie" by David Bowie
Auction price: $31,855 in 2013
Express reports that David Bowie's original draft of his classic number from 1973's "Aladdin Sane" was a huge draw at a British auction in 2013, according to Express.
Song: "I Will Always Love You" by Dolly Parton
Auction price: $7,150 in 2009
One of the all-time country classics, Dolly Parton's handwritten lyric sheet for 1974's "I Will Always Love You" grabbed thousands at a Nashville charity auction in 2009. At the same event, Willie Nelson's "On the Road Again" brought in $3,510, according to CMT.