Bob McDonald: Those who worked with potential VA head describe his leadership style
McDonald was former CEO of Procter & Gamble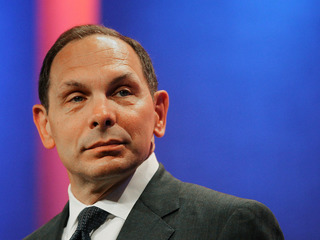 CINCINNATI, Ohio - So what kind of leader is Bob McDonald, the man nominated to head the troubled Department of Veterans Affairs?
Those who've worked with former the Procter & Gamble Co. CEO describe McDonald as a disciplined, values-driven leader who can manage complex systems adroitly and is always connected.
"I never sent him a recommendation or an email until I was ready to get an answer from him," said Jeff Weedman, former vice president of global business development at Procter & Gamble Co. "Because I knew wherever he was in the world it seemed like he'd get back to you in about 15 minutes."
That didn't change when McDonald left P&G.
Chip Gerhardt worked with McDonald on the Cultural Facilities Task Force, which is asking Hamilton County to place a sales-tax increase on the November ballot to support renovation projects at Union Terminal and Music Hall.
"It's amazing how quickly he responds in a substantive way to whatever is asked of him," said Gerhardt, president and founder of downtown–based Government Strategies Group LLC. "I was told that's the way he was but I can tell you it is in fact the way he is. Often, he's not in this time zone, not even in this hemisphere and you still get responded to."
Those are just a few of the leadership traits that await the Department of Veterans Affairs, now that President Barack Obama has decided to nominate the former P&G leader to run the troubled health care system.
McDonald is a West Point graduate who joined P&G in 1980 and rose to the CEO post in 2009. He retired in 2013 after activist investor Bill Ackman complained that the company had allowed profits and revenue growth to stall, inhibiting stock growth. During McDonald's tenure as CEO, P&G stock rose 60 percent from $51.10 to $81.64.
He was the most globally experienced CEO in P&G's history, having run company divisions in the Phillippines, Japan and Canada. One of his predecessors in the job, John Pepper, said McDonald is "a brilliant choice" to run the VA.
"Obviously, Bob's commitment to the military is deep," said Pepper, who was P&G's CEO from 1995 to 1999. "Not only was he committed to West Point and their teaching. He was a ranger. It's in his blood. He's a remarkably capable leader. He's disciplined, focused and he thinks systemically. I'm delighted for the country and I'm delighted for him."
During his 33-year P&G career, McDonald was known as an approachable, fair-minded leader who believed in what he liked to call a "purpose-driven" life.
"People like to work for leaders who operate with a clear and consistent purpose," he wrote in a 10-point memo entitled "What I Believe In." "The leader's job is to understand and enable the purpose and dreams of their employees. In this sense, the task of the leader becomes a calling, a profession; not a job."
Weedman said his former boss has a gift for connecting with people from different backgrounds. He'll often say, "Call me Bob," when someone approaches him with a Mr. McDonald. He'll often remember you when you meet a second time.
"He's a connector," Weedman said. "I followed him into Canada. He'd been there a couple of years before me. People still spoke very glowingly of how great it was to work for him."
Those who know McDonald were surprised by the news that he'd been chosen to lead the troubled VA system, which has come under fire for covering up long waiting times by veterans seeking health care. They didn't know McDonald was up for the job, but can't think of a better choice now that the news is out.
"The politics of this are whether or not he's the guy that can right the ship," Gerhardt said. "I don't know how you can't choose somebody that has served his country in the military and then run one of the pre-eminent corporations in the world. It's a rare combination. He's got to be one of the handful of guys that fits that bill."