Introduction of coeducation at all-female Wilson College angers alumnae
After admitting men, Wilson College faces pushback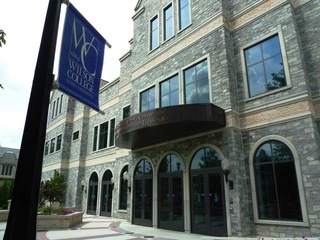 No men allowed.
That's the message women's colleges across the country send to college applicants -- and alumnae want to keep it that way.
"Every high school graduate, female and male, should have the option of attending a single-sex college if he or she wishes," Gretchen Van Ness, a representative of Wilson College Women said.
Wilson College, a private liberal arts college located in Chambersburg, Pennsylvania, has been an all-women's institution since it was founded over 140 years ago.
But that changed last fall when the administration admitted its first undergraduate male students, sparking debate between the school's leadership and alumnae.
"In abandoning Wilson College's core mission as a women's college and morphing it into a coeducational institution without approval of the Pennsylvania Department of Education, we believe (Wilson College) President Barbara Mistick and the Board of Trustees have failed generations of alumnae and future students who would benefit from a Wilson education," Van Ness said.
A 1980 Wilson College graduate, Van Ness and a group of Wilson College alumnae have come together to ask the state of Pennsylvania to reject the decision by the school's leadership to admit men.
"The new President and current leadership do not understand how special it is," Van Ness said. "The decision to go co-ed was very rushed."
The alumnae of the 300-acre campus located in Southern Pennsylvania, two hours northwest of Baltimore, have collected over 1,600 signatures to support Wilson remaining a women's college.
History of women's colleges
Women's colleges have been around since the mid-19th century and were founded to give women access to higher education. This was a time when many people believed it was unnecessary to educate women, according to the Women's College Coalition.
The coalition was founded in 1972. It conducts research and helps with admission advocacy programs on behalf of its 44 members that include two- and four-year, public and private colleges in the U.S. and Canada.
In the 1960s and 70s, higher education opportunities for women increased as the landscape of higher education changed and the world saw rapid and complex social and economic changes. At that time, there were more than 230 women's colleges.
In the U.S., the increase in the number of women's colleges was directly impacted by the Civil Rights Movement, the Women's Movement, and passage of Title IX. At the same time many previously all-male colleges were becoming coeducational, according to the Coalition.
Female enrollment in higher education continued to grow. By the late 1970s, women's enrollment in college exceeded men's.
Today, there are 47 women's colleges in the U.S. and Canada and women continue to make up the majority of undergraduates on college campuses, according to the Coalition.
Wilson College sees change
Wilson College was founded in 1869 by two Presbyterian ministers and was one of the first women's colleges in the U.S.
It has an enrollment of about 700 students and is known for its Women with Children program, Van Ness said. The program allows single mothers and their children to live together on campus while attending classes.
In January 2013, Wilson's board of trustees voted to make all programs fully coeducational, opening up enrollment to men as well as women. Two of the college's programs, the adult learning and graduate programs, already included men.
According to Wilson alumnae, three months after the vote, the college started advertising coeducation and then in June 2013 filed the appropriate paperwork with the Pennsylvania Department of Education.
The time frame and process of accepting male students are the core issues being debated. Earlier this week, Wilson College alumnae and members of the Wilson College administration had an opportunity to plead their case to the Pennsylvania Department of Education in a public hearing.
Alumnae, like Van Ness, said they believe Wilson broke the law when it began recruiting and admitting male students before receiving proper approval from the State of Pennsylvania.
"The College knew that any fundamental change in mission had to be approved by the Department of Education, yet chose to begin admitting male students anyway, months before it sought the legal authority to do so," Van Ness said. "The College's charter still has not been changed. It is still, today, chartered and accredited as a women's college – yet it is being operated as a coeducational institution in deliberate violation of the law."
The college doesn't see it that way. Officials said changes made to its charter in 1993 already allows it to accept men as undergrads. They also cite low enrollment and a tight financial situation for their decision.
For alumnae the issue is bigger than Wilson. Van Ness said if the state allows Wilson to continue operating as a coeducational college, it could have a snowball effect on education oversight in Pennsylvania and throughout the country.
"The state of Pennsylvania has a responsibility to protect the public interest," she said. "If they (Wilson College) are allowed to violate it, then this could lead to others doing the same."
This isn't the first time alumnae have stepped up to support their alma mater. In 1979, the college was about to close, but alumnae swept in, raising money to keep the doors open.
"Women's colleges offer a unique educational experience that benefits many young women in ways a coeducational environment cannot," Van Ness said.
A civil rights attorney, Van Ness talked about the benefits of being in an all-women learning environment where "everything is about being yourself," and the pressure to wear makeup and dress up for class is eliminated.
Van Ness said creating a coeducational college at Wilson would take the unique educational experience away at a time when many women's colleges across the country have gone coed or closed.
Women's colleges are needed "because the world has not changed as much or as rapidly as we want it to," Van Ness said. "Women's pay equity is still an issue and in a coed setting, particularly in male-dominated fields, women are treated differently."
Wilson College President Barbara Mistick told the news organization WITF that no matter what the state decides, it's moving ahead with admitting more men to its undergraduate programs. According to WITF, there are already three commuter students and plans for a men's basketball team this winter.
About 100 people showed up for the public hearing earlier this week. The Department of Education can request documents from both sides until August 1. There's no timetable on when the department will come to a final decision.