Tornadoes, hail headed for upper Midwest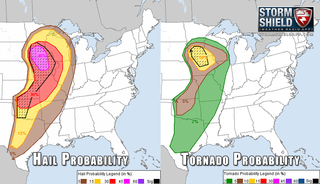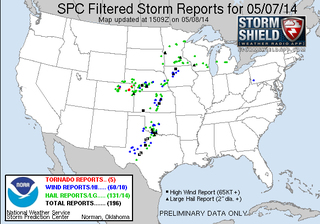 The same system that brought tornadoes to northeast Colorado and hundreds of hail reports from Texas to Michigan on Wednesday is now headed for Minnesota and Iowa.
Low pressure and a large, supporting upper-level trough centered itself over northeast Colorado on Wednesday evening. Now the center of the low has moved north and east, causing the Storm Prediction Center to issue a moderate risk for parts of Minnesota and Iowa.
Warm, moist air has worked its way well north of where it usually is this year. Pair this with the low pressure system at the surface and a deep trough throughout the upper levels of the atmosphere, and you have all the ingredients for violent thunderstorms.
Today's conditions are ideal for supercell development, which means tornadoes and hail are both good possibilities.
These storms will likely develop in the middle of the afternoon and travel northeast. Those affected should keep a close eye on any watches and warnings that may be issued today.
Follow Storm Shield Meteorologist Jason Meyers via the Storm Shield app on twitter, @StormShieldApp and Facebook. Download the Storm Shield Weather Radio App for your iPhone or Android device and get severe weather alerts wherever you are.