Republicans signal willingness to work with Obama on unaccompanied minors crisis
Immigration still a key issue for Texas GOPers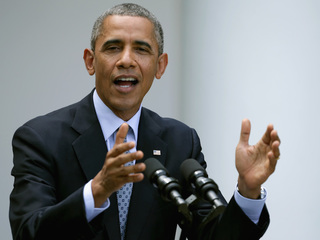 WASHINGTON, D.C. - The growing number of unaccompanied minors crossing the border into the United States may have a silver lining – finally forcing a sliver of bipartisanship in Washington.
After President Barack Obama announced his intention Monday to use executive action to work towards a resolution regarding the minors, some Republicans decided they are willing to work with him, even if his promise to use that executive action drew mixed reactions.
"We're willing to work with him to solve this crisis if he's willing to get off the belief that we have to do comprehensive immigration reform," Rep. Blake Farenthold, R-Texas, said.
Border states such as Texas are at the front lines of the humanitarian crisis. By the end of this year, as many as 90,000 unaccompanied minors are expected to cross into the United States, compared to only 24,000 in 2013.
Lawmakers could help with several small measures to solve the problem, including hiring more immigration judges to speed the children through the system and allowing expedited removal of them from the country, Farenthold said.
"(Obama) can get support for either one of those, but if we have to do everything in immigration, that's going to be hard to find a consensus on," he said.
Mistakenly believing they can stay indefinitely, thousands of children are pouring across the border – 52,000 as of mid-June this year. Most are from Guatemala, Honduras and El Salvador.
The same day he raised Republican hackles by pledging to use executive action to fix a broken immigration system, Obama sent Congress a letter, giving lawmakers notice he wants to work with them after the July Fourth recess.
On the agenda: Plans to expand authority, obtain emergency funds to pay for a border security surge and aggressive deterrence focused on removing and sending back border crossers, as well as an increase in immigration judges and resources to process and care for children and adults.
While many Republicans believe Obama's immigration policies encouraged the crisis, there's also agreement that more enforcement efforts are necessary and a deterrence strategy is critical.
"We must also immediately return the children to their home countries and make it clear that illegal immigrants of any age cannot stay as well," Rep. Mac Thornberry, R-Texas, said in a statement.
While some Republicans may be willing to give an inch, comprehensive immigration reform is still a long way off. Rep. Mike Conaway, R-Texas, said the president's wish list will "play a distant second to the national security and health concerns of our border crisis."
"Any effort he undertakes to single-handedly address this crisis will prove to only make a bad situation worse," Conaway said in a statement. "No amount of bullying or lecturing on the president's part is going to lead me to support an immigration bill that is not in our nation's best interest."
Washington correspondent Trish Choate can be reached at 202-408-2709 or Trish.Choate@Scripps.com. Follow her on Twitter at Trish_in DC.
DecodeDC's foremost aim is to be useful. That means being a reliable, honest and highly entertaining source of insight and explanation. It also means providing multimedia coverage of Washington's people, culture, policies and politics that is enlightening and enjoyable. Whether it's a podcast, a video, an interactive graphic, a short story or a long analysis, it will be based on this guiding principle: We are in DC but not OF DC.