Patchwork background check system ill-equipped to keep guns from the mentally ill
Breakdowns lead to poor mental health reporting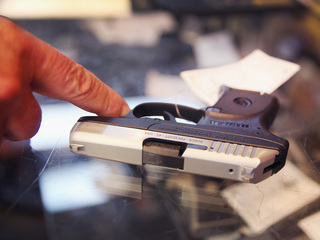 The national News21 Initiative brings together a select group of student journalists to produce a major national investigation into a topic of wide interest. This year, News21 has documented the struggle over gun rights and regulations in America. Under the direction of some of the nations best professional investigative journalists, 29 students from 16 universities have traveled the country to produce text, videos and interactive graphics to tell the story "Gun Wars: The Struggle Over Rights and Regulation in America." Over the next two weeks we will be featuring much of their reporting. You can view the entire project at the News21 website.
While the National Instant Criminal Background Check System remains the only square inch of compromise between the nation's gun camps, the costly federal program is failing to keep guns away from the dangerously mentally ill.
The White House describes the background check system, also known as NICS, as its "most important tool" to stopping gun crime. But more than a decade of data from the FBI and public health research reveals broad failings of the system, which has cost at least $650 million to maintain, a News21 investigation found.
Nearly all sides of the gun debate have devoted resources to strengthening the background check system, confronting technology gaps, coordination failures and privacy concerns.
Thirty states have passed laws mandating mental health reporting to NICS, four of which were added in the past six months. Yet no organization has been able to address the larger concern that NICS is poorly designed to identify those in society most likely to be violent.
"It's really casting a very wide net to try to find a few people, which is largely an impossible task," said Dr. Michael Norko, head of forensics at the Connecticut Department of Mental Health and Addiction Services. "We really need to find a better way of doing this."
Federally licensed gun dealers are required to conduct a background check, either online or by phone, before each firearms sale. Within about 30 seconds, the system searches for prior criminal convictions and in 38 states a history of severe mental illness as judged by a court.
But states are not required under federal law to submit mental health records to NICS. There are no consequences, financial or otherwise, if states choose not to send records, resulting in a national record-keeping system that is riddled with information gaps.
Millions of people who have been forced into hospitals for mental health issues are left out of the system. Only about 30 percent of the 4.4 million estimated mental health records in the U.S. over the past two decades can be found in NICS, according to research compiled in 2012 by the National Consortium for Justice Information and Statistics and the National Center for State Courts.
Those whose names are found in the system are unlikely to try to buy a gun. Out of all gun purchases blocked by the FBI in the past 16 years, fewer than 2 percent were because of mental health status. That amounts to 14,613 blocked sales since 1998.
The files are costly to locate and store, according to interviews with officials from 10 states. Mental health records can be kept in courthouses, private hospitals and state health facilities across each state. There were 2,083 agencies responsible for providing information for background checks across the country in 2010, including courts, state health departments and psychiatric hospitals, according to the most recent Bureau of Justice Statistics report.
The system is also much too inclusive, six public health experts said in interviews.
The names of people who are kept in the database are based on a decades-old definition of "mentally defective," which relies on court decisions rather than doctors' orders. Under federal law, individuals with histories of violent psychotic episodes can legally buy guns as long as they never set foot in a courtroom.
Every one of the country's mass shooters since January 2009 could have slipped through NICS, according to a July 2014 study by the gun control organization Everytown for Gun Safety.
In 12 out of the 110 incidents identified by Everytown, the shooters had demonstrated some evidence of a mental illness, but there was no evidence that any of them had been mentally adjudicated or involuntarily committed for treatment.
A patchwork of regulation
In addition to the FBI's annual budget for NICS, the Department of Justice also has handed out $56 million in state grants over the past five years to improve mental health reporting.
Despite years of investments, some states continue to struggle to submit records.
Massachusetts has received $2,323,737 and collected just one record
Idaho has received $4,359,500 and collected 4,002 records
North Dakota has received $297,267 and collected 18 records
Oregon has received $4,542,109 and collected 30,059 records
Wisconsin has received $3,481,372 and collected 16,616 records
Thirty states have passed laws that require agencies to report mental health records, with the number of records tripling since 2011. But states continue to report difficulties with interagency coordination, technological abilities and privacy laws.
Florida, which has received $8.6 million since 2007, has retroactively collected more than 60,000 mental health records since it was heavily criticized in a report from Mayors Against Illegal Guns that showed the state had far fewer records than less-populated states like Pennsylvania.
As the Florida Department of Law Enforcement began educating clerks from the state's 67 counties and offering funds to help address the backlog, most ultimately complied.
"Nobody wants to say, 'Oh, this happened in my (county) and it may have been prevented if I had just done the reporting,'" said Tim Giesecke, who manages the database for the department.
Still, Florida's recordkeeping is not perfect. A 2014 internal audit of the data found that half of its records were submitted after the 30-day deadline and 4,000 records took more than a year. Additionally, nearly 200 records had incorrect birthdates, making it tough for the system to identify disqualified people.
Ten states have submitted fewer than 100 records to NICS, including Rhode Island and Montana. Some states with few NICS records have shared a portion of records with local law enforcement departments, though in Massachusetts that amounts to only 1,200 patients a year.
Most state officials pointed to privacy concerns, outdated computer systems and a potential chilling effect where more reporting could mean fewer people seek mental health treatment.
Federal government officials – along with lobbyists from Everytown for Gun Safety and the gun industry association National Shooting Sports Foundation – continue to push for more records. In 2015, the government will hand out $58 million in NICS mental health grants, its largest-ever pool of funding.
U.S. Rep. Andy Harris, R-Md., who sits on the House Appropriations Committee, said he doesn't support increased funding for NICS.
"Throwing money at the problem hasn't solved the problem in Maryland now for a decade and it won't solve the problem now," Harris said. "It's become clearer and clearer that we have difficulty restricting people with serious mental illness from acquiring a firearm. We need to think of another way."
System breakdowns
During one of Ben Hundtoft's last hospital visits, his sister Marjorie remembers warning the emergency room doctor that he wasn't safe to be released.
"The doctor looked right at me and said, 'It's not against the law to be insane,'" said Marjorie Hundtoft, who lives in Portland, Ore.
Weeks later, on Jan. 1, 2012, her 32-year-old brother rented a hotel room and killed himself using a gun he had bought in a nearby shop. Despite more than five years of hospitalizations for psychotic episodes related to his bipolar disorder, Ben Hundtoft was able to purchase the gun legally.
Two years later, Marjorie Hundtoft said she wishes her family had been able to help, but had faced limited options.
"If my brother didn't want to see a psychiatrist, then he wouldn't go. We'd set up appointments, but he wouldn't go," she said. "At a minimum, I thought he needed some kind of outpatient treatment. They didn't offer that. There's really not much you can do."
Though he had once attacked his sister and threatened an ex-girlfriend, Ben Hundtoft did not have a criminal record because neither woman wanted to send him to jail.
Norko, the Connecticut forensics official who also worked 15 years in the state's maximum-security psychiatric hospital, said he believes the best approach to preventing firearms-related deaths is giving police the authority to temporarily confiscate weapons in dangerous situations.
Norko is now leading a study on guns that have been seized by police in Connecticut, one of just two states that allow the practice. Most of the 800 cases he's studied involve "regular folks" whose relatives or friends call the police because the person is "sitting there with a gun in their lap and an empty bottle of Jack Daniels," Norko said.
Gun suicides outnumbered gun homicides nationally by about a 2-to-1 margin in 2012, a News21 investigation found.
Some states have attempted to better identify dangerous individuals before they harm others. California and New York have recently passed controversial legislation that requires doctors and other healthcare professionals to report people who present credible threats to themselves or police.
New Jersey is considering mandating mental health screenings for anyone looking to purchase a firearm, while states like Nevada have turned to similar types of screenings in schools to identify people with potentially dangerous mental illnesses.
Protecting privacy and personal freedoms
In the wake of the Virginia Tech shooting in 2007, top White House leaders launched an investigation into mental health and violence-prevention programs across the country.
The final report laid out several warnings about the lack of mental health services nationwide and the failure of states to consistently submit information to NICS. But it also had a straight-forward message for preventing tragedies like the one at Virginia Tech.
"We cannot maintain a free and open society and eliminate the possibility that violence in schools, offices or malls will happen again," the report stated. It was signed by the U.S. attorney general and the secretaries of education and health and human services.
Concerns about privacy and personal freedoms – predominantly, the Second Amendment – have emerged in nearly every state that refuses to require NICS reporting.
Still, groups like Everytown and the National Shooting Sports Foundation are optimistic that the remaining states will resolve these issues within the next few years and begin submitting all their records. Once the system begins functioning fully, said McGuidan, a NSSF lobbyist, the existing categories will be enough to stop gun crimes.
"Obviously, we in the firearms industry, we do not want to expand categories of who would be prohibited," McGuidan said. He argued that his stance is the same as the views of mental health professionals concerned about an overly inclusive system. "We're on the same page."
Jake Warner, a communications representative for Everytown, said while there is no "silver bullet to end all gun violence," he agrees the background-check system remains one of the nation's strongest policy approaches. The organization has worked with officials in every state to increase records reporting.
But many public health researchers continue to criticize what they describe as a crisis-driven policy approach to identifying potential perpetrators, spurred by high-profile mass shootings.
"Yes, it's horrible that people get gunned down in schools and shopping malls and movie theaters and places that we think should be safe for everybody to go, but (gun violence) is a much, much, much bigger thing" said Daniel Webster, the director of the Johns Hopkins Center for Gun Policy and Research.
Webster, a Kentucky native who has spent 20 years studying gun violence and policy, said if other experts in his field were asked to choose one type of law they'd like to see in America, it would likely be universal background checks.
He said the current system is not built around the individuals who are most likely to commit violence – those with a history of violence, such as individuals with misdemeanor counts of assault and domestic abuse.
"(NICS) does identify a high-risk group, but it's pretty small high-risk group. I think there are much bigger fish to fry," Webster said.
DecodeDC's foremost aim is to be useful. That means being a reliable, honest and highly entertaining source of insight and explanation. It also means providing multimedia coverage of Washington's people, culture, policies and politics that is enlightening and enjoyable. Whether it's a podcast, a video, an interactive graphic, a short story or a long analysis, it will be based on this guiding principle: We are in DC but not OF DC.